BOGO Black Walnut Grill Scrapers (Back Order until mid January)
Wooden Grill Scraper... How does that work?
We're glad you asked!
Especially since they are BOGO! Since we sold out our entire "Black Walnut Friday" inventory in 3 hours... We are extending this amazing deal for everyone to get a chance to try out this awesome product and share one with a friend! We will resume shipping them in mid January when we will have our next batch ready. Thanks so much for your business!
How it works:
Your Black Walnut Scraper comes with a flat edge as seen below and with use the grooves conform to the shape of your grill grate. Making it a custom fit for each and every type of grill.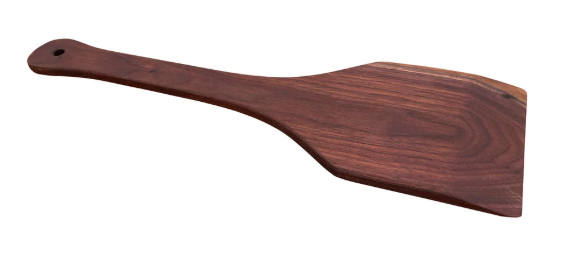 BOGO Black Walnut Grill Scrapers (Back Order until mid January)
Break in your scraper for the first time with 3 easy steps:
Get your grill up to around 400 degrees Fahrenheit

With both hands put pressure on the scraper and run it back ad forth across the grates until a groove starts to form. The original groove doesn't need to be deep, just enough to keep it on track in the future.

Every time you use your grill give her a good cleaning scrape before use and the scraper will get better with time.
Why is a Black Walnut Grill Scraper the best?
HARDWOOD! Not only is Black Walnut sturdier than other scrapers, but it also lasts for years because the grooves wear in slower than most other scrapers made out of a soft wood. There are no bristles to get grease, grime, and leftover food stuck in, so cleaning it is a breeze. Just hose it off or wash it in the sink (no dishwasher). Oh yeah, and they are hand made by JJGeorge in the USA!
Wooden Grill Scraper vs Metal Bristle Brush:
Can a Cheeseburger send me to the Emergency Room?.... You bet your Big Green Egg it can!!!
According to the Journal of Otolaryngology Head and Neck Surgery Over a 12-year span from 2002-2014, almost 1,700 people went to the Emergency Room for ingesting bristles from metal grill brushes in the United States. This report came after the CDC warned of their dangers in 2012. The report is more detailed than CDC's warnings, though, and also concludes the number of those affected by this issue is likely much higher, as it only considers ER visits, not urgent care or walk-in clinics.
So now that you know that a Black Walnut Grill Scraper is easy to use, lasts a long time, is easy to use, and will keep the doctor away! click here, grab a couple, and go cook something awesome on your grill!
Thanks for visiting us and as always, leave us a comment below to let us know how we are doing?
Happy Grilling!
-The JJGeorge Team