I'll see your Burnt Ends, and raise you Eggs Benedict!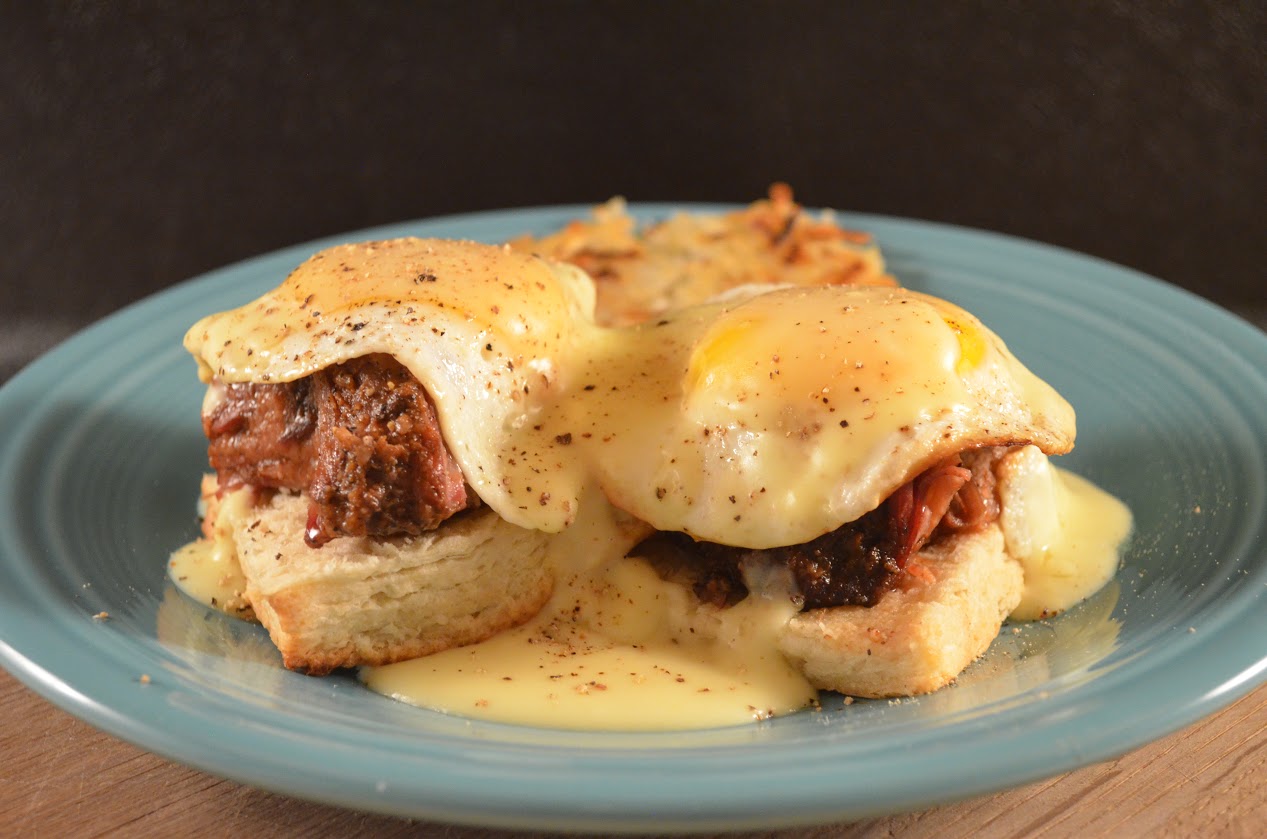 For this edition of Grillmaster Tips we are talking with our friends Ryan Murray and Eric Wood from Jay Hogs BBQ in Lees Summit, Missouri. Ryan and Eric met in their college days at the University of Kansas, so when it was time for the two "Jayhawks" to name their competition BBQ and catering business, "Jay-Hogs BBQ" was a natural fit. These guys are relatively new to the competition BBQ scene, but are packing a mean punch with their perfectly cooked BBQ and one of the greatest logos around!
Contact Jay Hogs BBQ with questions or comments at:
Instagram: @JayHogsBBQ
Facebook: @JayHogsBBQ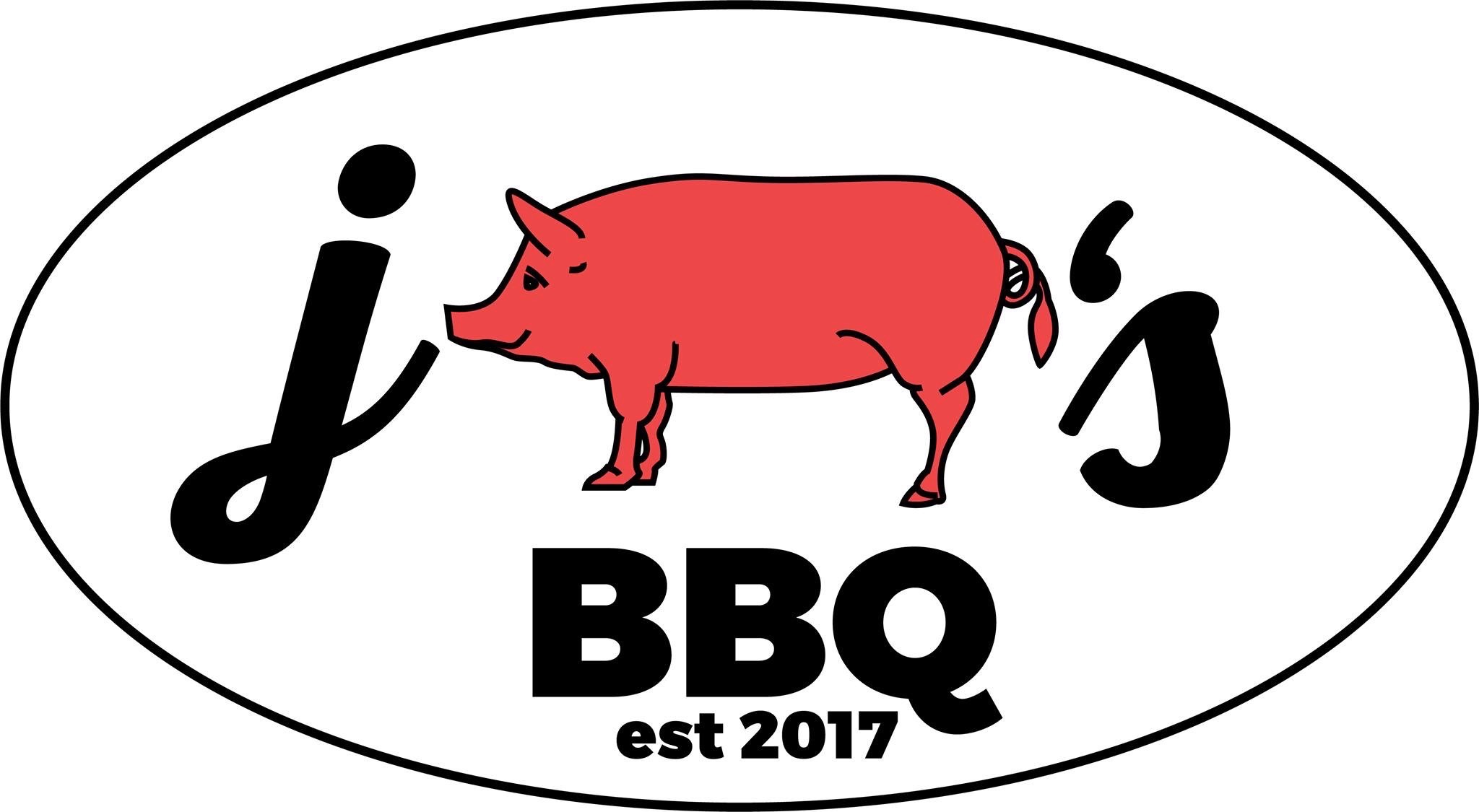 JJ: Can you give our followers a play by play on one of your favorite meals to cook and a little insight on how they can create it for themselves at home?
Ryan: Burnt End Benny is something that we love to throw together after a long weekend of competition BBQ. One of the keys to competition BBQ is to only put the best bites in the box that you serve the judges. If the burnt ends need more time, or are too salty, they don't make the cut and we are lucky enough to take them home to make this tasty treat. For us at Jay Hogs BBQ this happens quite often because of our cooking method. Although we take the Hot and Fast approach to most competition meats, we still like a low and slow competition brisket.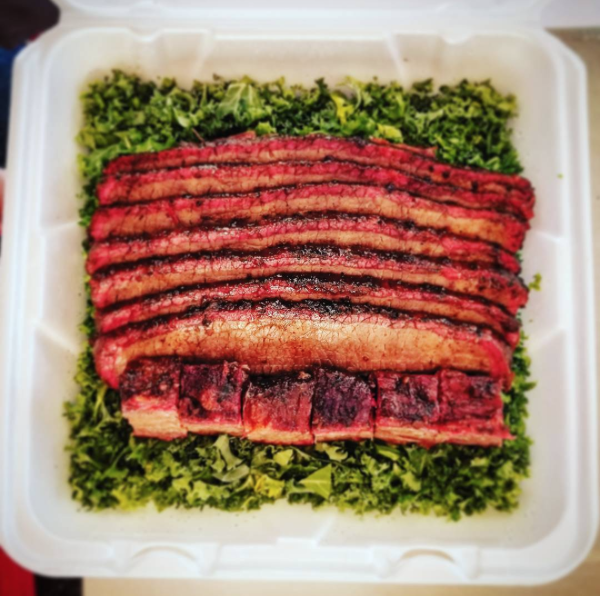 JJ: For me brisket can be a tricky thing to cook. What is your method to get the brisket just right for competition and have burnt ends to boot?
Ryan: A brisket that has been smoked for 12 plus hours over pecan is hard to beat, but this also means that we rarely get burnt ends finished up in time for brisket turn-in. Although, a low and slow brisket is our preferred method, you can really whip up this brisket on a Friday evening after work and have the burnt ends ready to go for brunch on Saturday using a hot and fast cooking method. The keys to a hot and fast cook (4-4.5 hours for a 10-12 pound brisket) is to keep a close eye on your temps (275-300 degrees) and to separate the point from the flat before cooking. There are a couple reasons that you want to separate the two parts of the whole brisket before cooking 1.) Everything is going to cook faster because the pieces of meat are smaller. 2.) You don't wind up burning your fingers while trying to separate the point after the meat has been cooking for hours.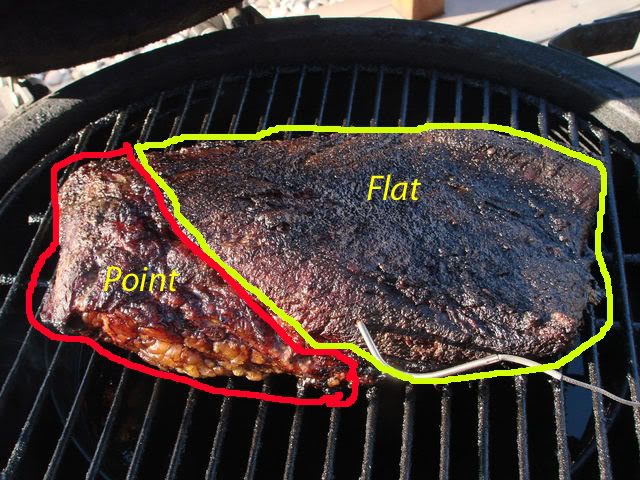 JJ: When smoking a brisket whole, what do you do differently?
Ryan: If you want to go old-school and cook a whole packer brisket low and slow like we do during competitions, then we have a few tips for you. First, cook to look and feel, not to temperature. This is one of the hardest things to teach, but the easiest thing to learn. Before wrapping your brisket always make sure the bark has set. An old-timer once told me that if you can lightly rub your fingertips over the top of the brisket without the bark pulling up you are good to go... This is a tip that we live by. Another tip is to use butcher paper instead of tin foil. The butcher paper tends to breathe a little better and helps the bark stay together throughout the entire cooking process. Tin foil can wind up steaming the meat and when you open the tin foil later in the cook you often times find that the bark has all melted away.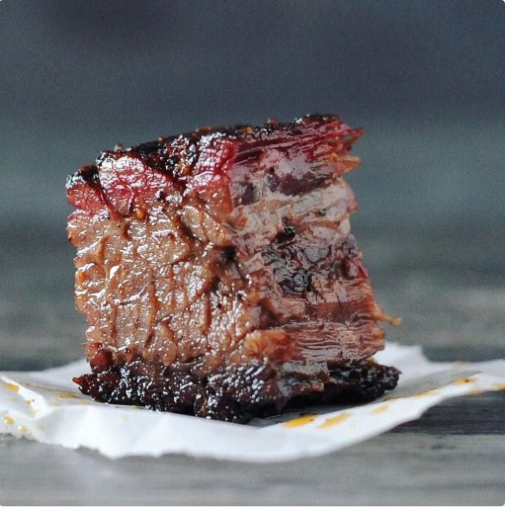 JJ: What is one tip or trick that you would give our audience to up their brisket game?
Ryan: The most important tip for all BBQ is to have some kind of instant read thermometer on hand. On a brisket we use it more as a meat probe to give us a good idea of how tender it is, rather than to constantly check the digital temperature reading. It comes with practice, but once that probe slides in and out of the flat like going into a warm stick of butter you are finished with the flat. However, that does not mean that the point is finished. Due to the high fat content in the point we usually wind up cooking it an hour or so longer after separating it from the flat. If I am finishing off a point at home I like to throw it in a tin foil pan with some extra rub and a little beef broth. Then I let it roll for about an hour longer than the flat. When it's finished, I want to be able to squeeze the point and it have the consistency of a wet sponge, almost spongy enough that your fingers feel like they are going to go right through the meat. This is a bit more complicated than the flat, but I usually take my burnt ends to around 210-215 degrees. There is really so much fat in the point that if you over cook it a bit no one will notice.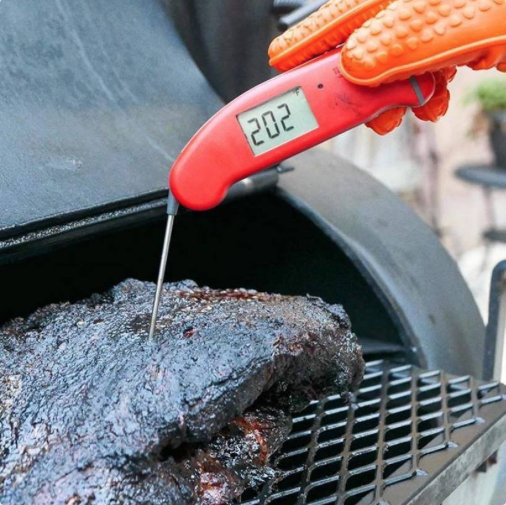 JJ: I think we have all dried out or wrecked a brisket at some point in time, How long did it take you to master the art of the brisket?
Ryan: Briskets are tough, expensive, and can be a complete waste of time. Even though we turn out some killer brisket nowadays, I have burnt up a few in my time. These things take time, and each piece of meat is a little different. This is why we always tell people to cook briskets to look and feel, not to temp. If you're cooking a choice brisket from your local grocery store it will probably get done at a different temp than a Snake River Farms $200 Wagyu brisket. This is why we always suggest ignoring the temperature and going on what feels right. Trial and error is the best way to get good at anything, write everything that you do down on a piece of paper and keep it somewhere safe. Once you are done with your cook try to figure out what went right and what didn't, and the next time you try it again using those notes to perfect your craft.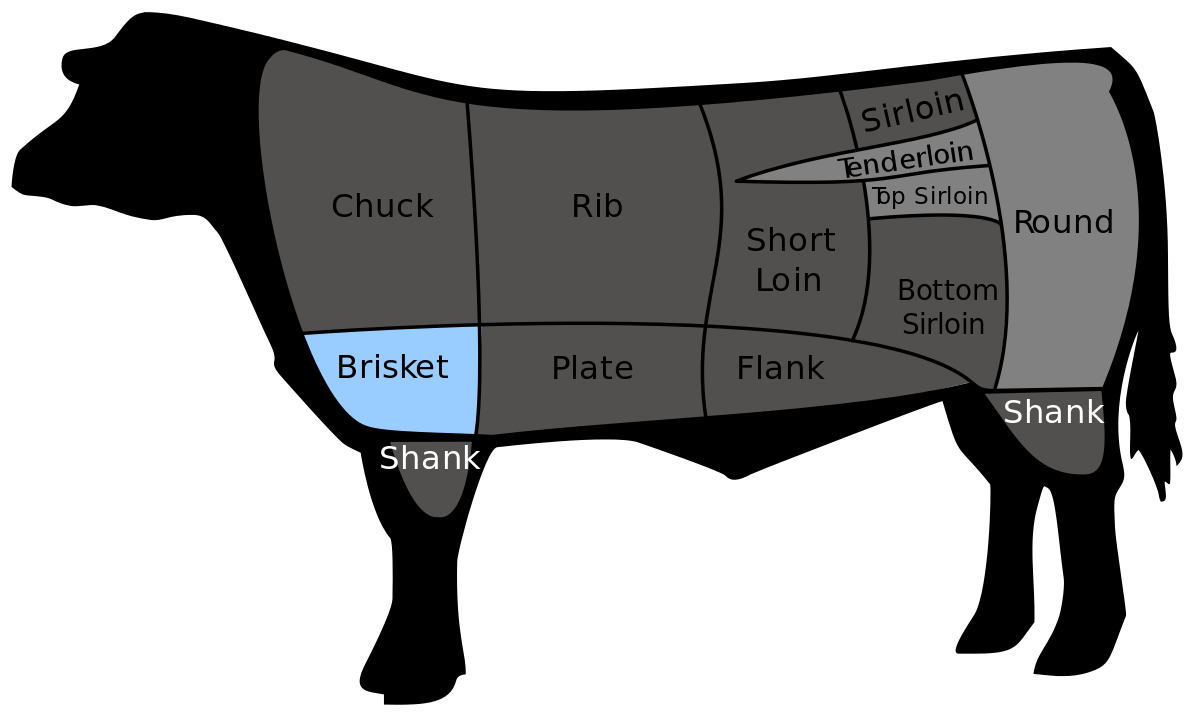 JJ: So we've been through how you guys cook both the flat and point of the brisket... Let's hear about Burnt End Benny?
Ryan: Once you have your burnt ends all you need to do is whip up some fresh buttermilk biscuits, a little hollandaise sauce, and a couple of fried eggs. We know that a typical eggs benedict comes on an English muffin with a poached egg, but this is BBQ and it's supposed to be easy and delicious. I always go with a quick and easy buttermilk biscuit recipe that has been handed down to me so unfortunately, I can't share it with you here, but the premade biscuits from the dairy section of the grocery store work well too. I like my bennys a bit messy so I always go with a sunny side up egg, and although my wife likes the hollandaise I typically throw some Alabama White Sauce on mine for an extra kick. Lane's BBQ makes a killer white sauce, and you can also find a ton of recipes online to make your own. The key with the white sauce is to let it sit over night before serving, it really helps some of those flavors come together.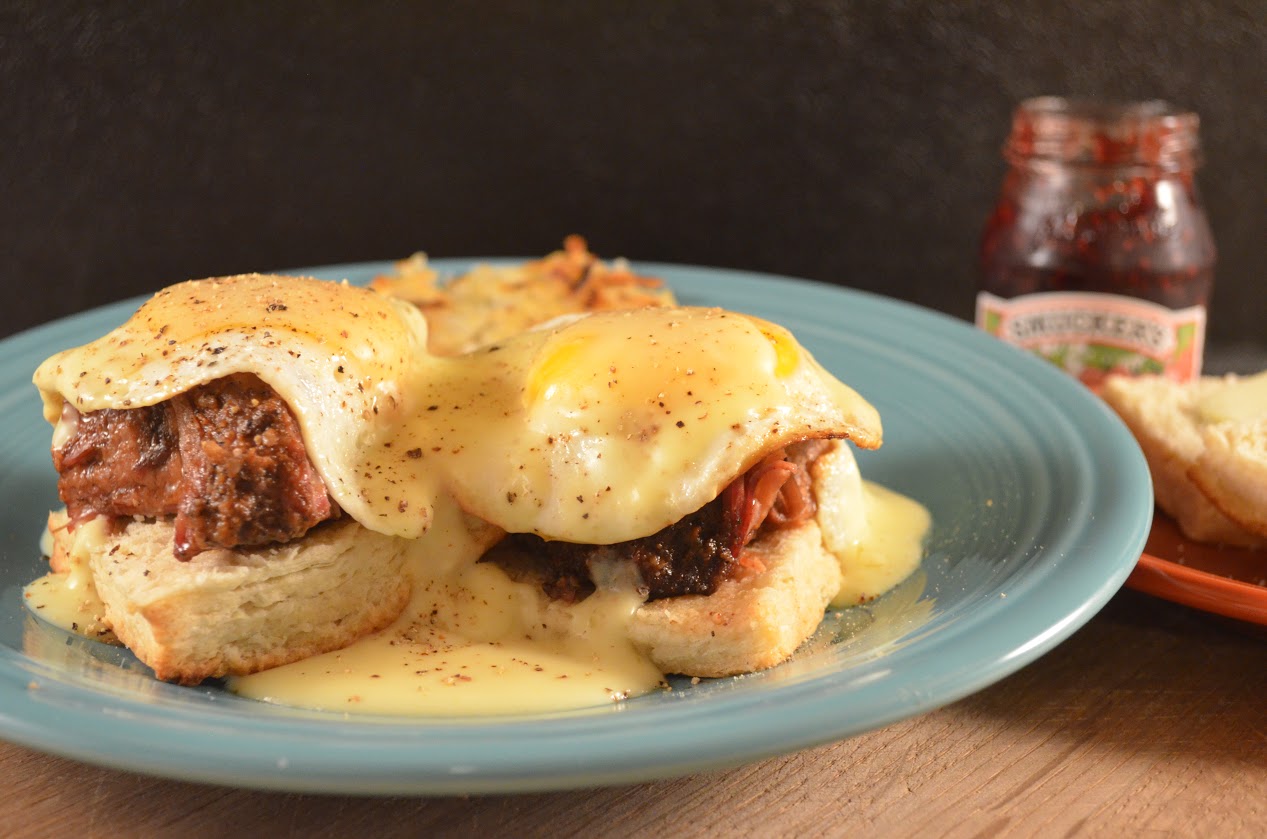 Thanks so much to Ryan and Eric from Jay Hogs BBQ for spending a little time with us to help make everyone's next brisket smoke a success. Now that you have added another delicious brisket recipe to your cooking arsenal, the next time someone brags about their burnt end's, all you have to say is "I'll see your burnt end's, and raise you eggs Benedict!"