Posted by JJ on 15th Nov 2022
Does your Big Green Egg or Kamado Joe Table need a little sprucing up?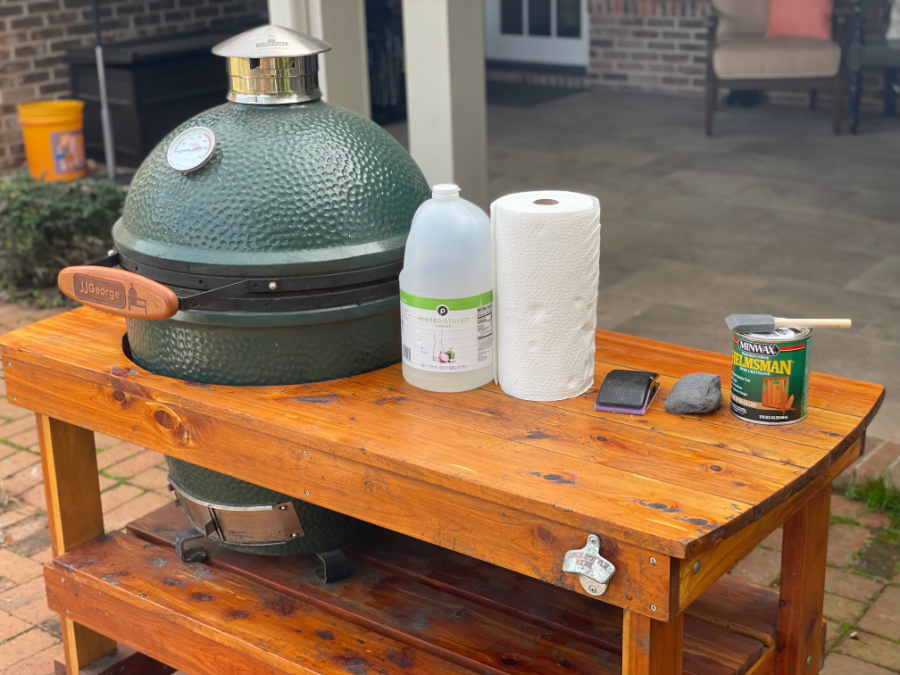 Today we are going to run through the steps to get your table in ship shape no matter what condition it is in!
The table we are refinishing is our 8 year old JJGeorge Table. The integrity of the table is great, she really just needs a good touch up to be looking like new again. JJGeorge tables are very durable when it comes to harsh weather conditions. However, using a JJGeorge Grill Cover when the table is not in use, will pro-long the life of the finish on your table. These sturdy black covers are waterproof and breathable.
Materials Needed:
220 Grit Sandpaper

00 Steel Wool

MinWax Helmsman Sparurethane (Available at Lowe's or Walmart)


2" Foam Brush

**Orbital Sander - only if needed for heavy sanding jobs
The Process:
It's really pretty simple!
First, clean your Big Green Egg Table with a 50/50 mix of warm water and white vinegar. Make sure to remove all the dirt and grease that you can to keep them from getting permanently trapped under the new finish.
Next, lightly sand any rough spots on the table with 220 grit sandpaper or 00 steel wool (use an orbital sander if heavy sanding is required). Make sure that any weathered spots that have turned gray have been stripped away and the table is smooth, exposing the natural pink color of the wood.
If there is still finish on parts of the table and it has maintained its color, then there is no need to sand the existing finish off. Just apply the new finish over the top of it.
After sanding, apply 3 thin layers of MinWax Helmsman Sparurethane (clear gloss),allowing to dry for a couple of hours in between each coat, and your table will look great again!
JJGeorge Tables - Available Here
Watch the JJGeorge Table Refinish Video here:
Thanks so much for stopping by and visiting us today! Its our mission to make outdoor living better for everyone that we come in contact with, and we hope that this now applies to you!
Happy Grilling!
-Team JJGeorge