We've made it easier than ever to shop for the Grillmaster in your life this Holiday season. Below are our Top Grillmaster Gifts for 2018.
Grill Masters Club Membership
Do you know someone who already seems to have it all when it comes to the grill? The gift of new and unexpected items to try out might just be perfect. The Grill Masters Club offers a monthly box of sauces, rubs, marinades, recipes and more delivered to your door. Their Give A Gift section offers 1, 3, 6 or 12 month subscription options. Learn more and purchase your gift by visiting their website HERE.
Feed the Party
This gift is perfect for the ultimate entertainer and meat lover. Feed the Party offers top-quality bulk meats at wholesale pricing. Order steaks, pork products, chicken and seafood, or a combination pack. You choose the quantity for your needs. If you aren't sure exactly what to order, use their E-Gift feature to give your Grillmaster the freedom to choose exactly what they want.
JJGeorge Refurbish Kit
Every Grillmaster has to keep their grill running efficiently and effectively at all times. The JJGeorge Refurbish Kit is a great way to give the frequent griller the items they need to keep the grill in tip-top shape. These kits come with essentials such as the Smokeware chimney cap, custom grill handle, replacement gasket and much more. There are two kit options - one including the JJG grill table and the other without. You can't go wrong with this practical yet perfect gift! Click here to see full details.
Trompo King
For the grill lover who thinks they have everything - enter Trompo King. This utensil is the result of a few passionate cooks gathering to create their favorite meal: Tacos Al Pastor. This utensil combines the cooking technique of vertical meat stacking and the flavors of Mexico. The Trompo King can also be used gyros, shawarma, and even a rib roast.
FOGO Charcoal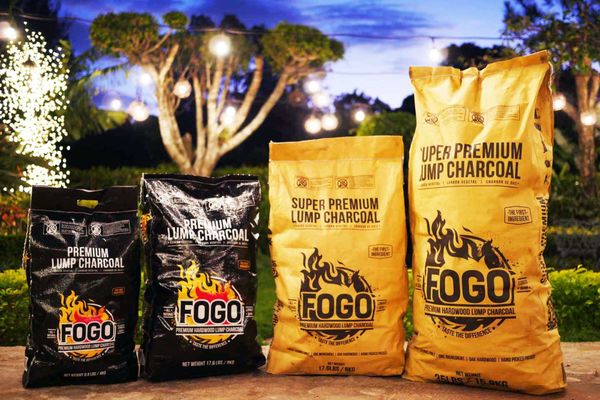 FOGO is all-natural, premium charcoal made from Central American Oak Hardwoods. This charcoal lights quickly and burns hot, searing the meat and locking in flavor. FOGO is made from dense hardwood trimming with no other ingredients whatsoever. Visit the FOGO website to see their best-sellers and other gift options.
The Perfect T-Shirt
Make sure you look the part when it's time to fire up the grill. Green Smoke Trading Company has a collection of shirts perfect for the grillers and smokers in your life.
Finex Cookware
Cast iron cookware is a must-have for the cook's kitchen and for grilling favorite recipes. The gift of high-quality cookware will last a lifetime and beyond. Finex cookware is expertly crafted by cooks and designers in the USA for the highest quality and modern design. It's functional and durable, standing up to the heat of open flame and standing the test of time. Visit the Finex website to shop their selection of skillets, dutch ovens, grill pans and more.
BBQ Toolbox
Do you know a Grillmaster on the go? The BBQ Toolbox portable grill is the perfect gift. Whether it's a tailgate party or a beach BBQ, you can rest assured the party goes with you. Pack the removable fuel tray with charcoal and cook your BBQ spread to perfection by adjusting the vent to control the flow of oxygen over the hot coals. Click here to shop.
Fire & Smoke by Chris Lilly
Help your Grillmaster fine-tune his or her grilling skills with the pitmaster tips and recipes in this cookbook by World Champion Chris Lilly. We can't think of a better book to have on hand for your classic favorites and unexpected new discoveries (such as Grilled Chicken & Conecuh Sausage Pizza with Alabama White Barbecue Pizza Sauce). Click here to order yours!
What are your favorite gifts for the Grillmaster in your life?
Leave your recommendations in the comments below to keep the great gift ideas coming!
Merry Christmas!