Today we are honored to have Chris Schemm from TitleTownGriller share an amazing tailgate recipe with us. Schemm is an orthopedic trauma nurse practitioner by day, and backyard griller at night. Follow his social media accounts at @TitleTownGriller
"I have always used cooking as my therapeutic release from the stresses of 'real life.' Once I discovered the Big Green Egg, it took cooking and experimenting to a whole new level. I love looking for new ways to make something or finding a way to make something on the grill that people would not traditionally think of as a grilled dish. Most importantly this has evolved into many new friendships and a skill that I have been able to share with my family and young daughters. There is nothing like preparing and sharing a good meal with the people you love. Cheers!"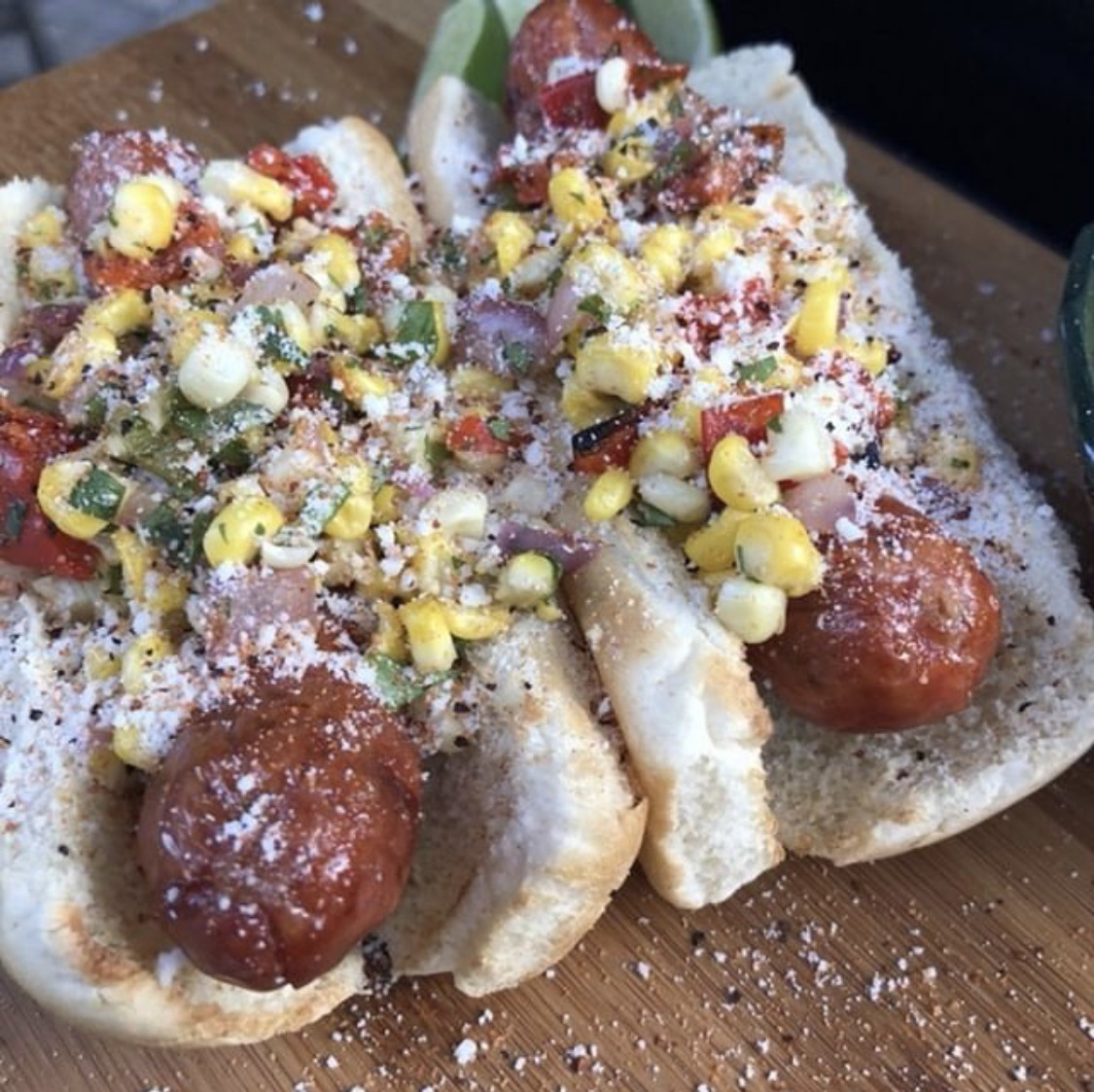 Football season is in full swing, and that means that we have another All-American past time to worry about -Tailgating. We all know how to make burgers and brats, but here is a recipe that will take your tailgating, or "Homegating" game to a whole new level. This recipe for grilled Chorizo with Roasted Mexican Street Corn Salsa can kick up any tailgate party. Use the salsa to top the chorizo sausage, or to top your favorite tortilla chip. Pair this dish with a couple of Corona's, some good friends, a few games of cornhole, and we have a real party on our hands.
Chorizo with Roasted Mexican Street Corn Salsa
Ingredients:
6 Chorizo sausages, uncooked if possible
6 hot dog or brat buns
Cotija cheese (parmesan cheese can be substituted)
2 ears of corn
1 red bell pepper
1 red onion
1 jalapeno
2 tablespoons of chopped cilantro
The juice of 1 lime
Lime wedges for garnish
Instructions:
For the Salsa
Prepare your Big Green Egg for direct cooking and stabilize the temperature at 400 degrees
Place the ears of corn, peppers, and red onions directly on the grill. Turn to achieve an even char on all sides of the vegetables, then remove from the grill and let cool.
Once cooled enough to handle, remove the kernels of corn from the cob using a sharp knife
Remove the skin and seeds from the bell peppers and jalapeño peppers and dice
Dice the red onion
Combine the corn, bell peppers, jalapeño peppers, onion, cilantro and lime juice in a bowl and stir
Can keep in the refrigerator for several days
For the Chorizo
Prepare your Big Green Egg for direct cooking and stabilize the temperature at 350 degrees
Grill the chorizo, turning frequently to cook evenly
Take caution while grilling because chorizo will give off more grease then other sausages, so flare ups can be common
Grill until the chorizo reaches an internal temperature of 160 degrees
Serve on a bun topped with the Mexican Street Corn Salsa and a sprinkle of Cotija Cheese, serve with a lime wedge
Enjoy!
For Tailgating
Prepare the salsa ahead of time. You do not want to worry about removing the corn from the cob while you are enjoying some adult beverages at the game - it gets messy and you want to keep your all of your fingers. All you need to do is set your MiniMax up for indirect cooking and cook the chorizo. I recommend doing indirect at the game because you will likely not be able to devote your undivided attention to cooking, and may be consuming some adult beverages.Your guests will certainly be impressed by this dish. Be careful, you may be asked to cook for every tailgate!
If you like the recipe give me a follow, and don't forget to tag me and @JJGeorge with your Tailgating and Homegating takes on this dish!