Posted by Ken Hess on 25th Mar 2020
Are you ready to cook restaurant quality Thai Beef on your Big Green Egg?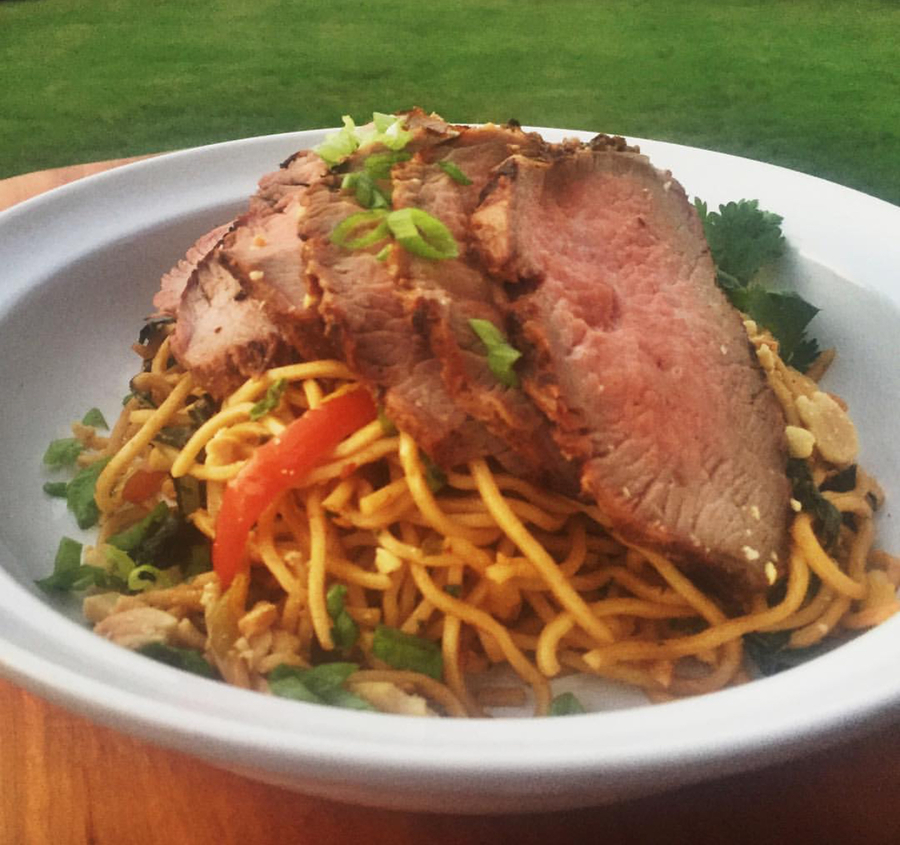 If so, you are in luck! This edition of Grillmaster Tips was written by our friend Ken Hess, owner of County Smoak in Lynchburg, Virginia. Ken has worked alongside the country's top pitmasters and has won World Championships in BBQ. In this post, Ken and his wife Jessica give us the secret to cooking a perfect Thai Curry Tri-Tip on the Big Green Egg and also some great advice on choosing the right grill for you.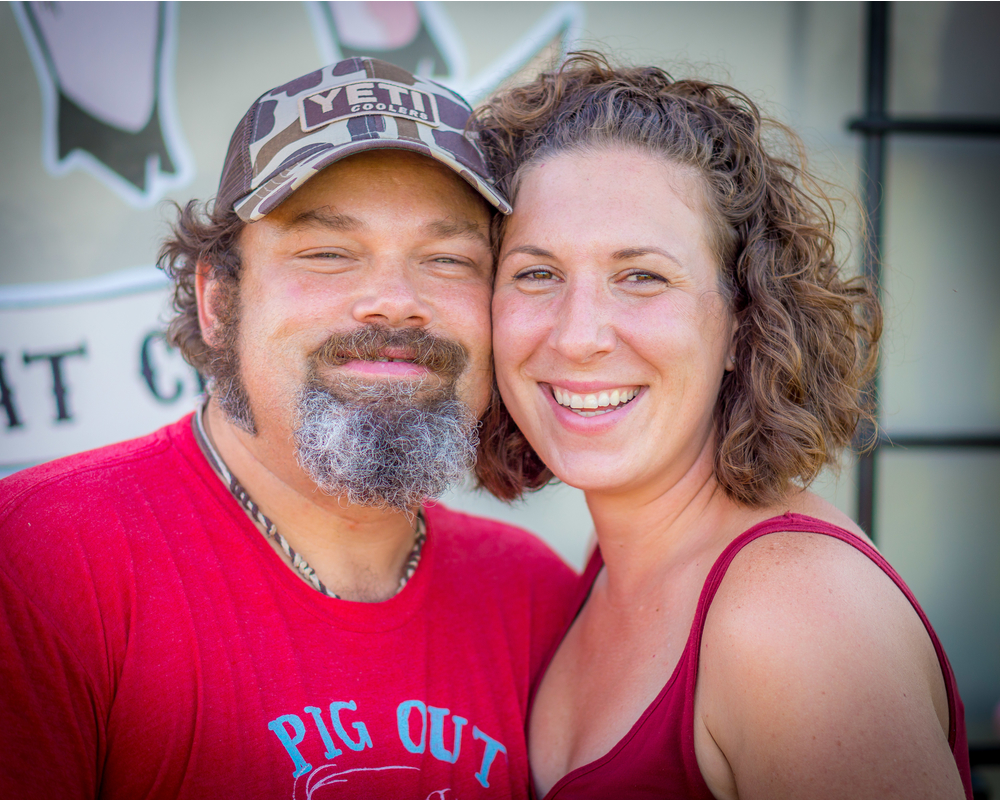 Thai Curry Marinated Tri-Tip on the Big Green Egg
By: Ken Hess
My wife, Jessica, and I developed this recipe for Snake River Farms. The Tri-Tip is a triangular beef cut from the bottom sirloin. This cut has been popular for decades in the California barbecue community. Often, the tri-tip is marinated and then grilled directly on a Santa Maria style grill. This grill has the ability to lower or raise the cooking surface above the fire. This allows the meat to be seared directly over the coals, then raised a distance to cook indirectly. This method is easily achieved on a Big Green Egg by using your convector plate (plate setter).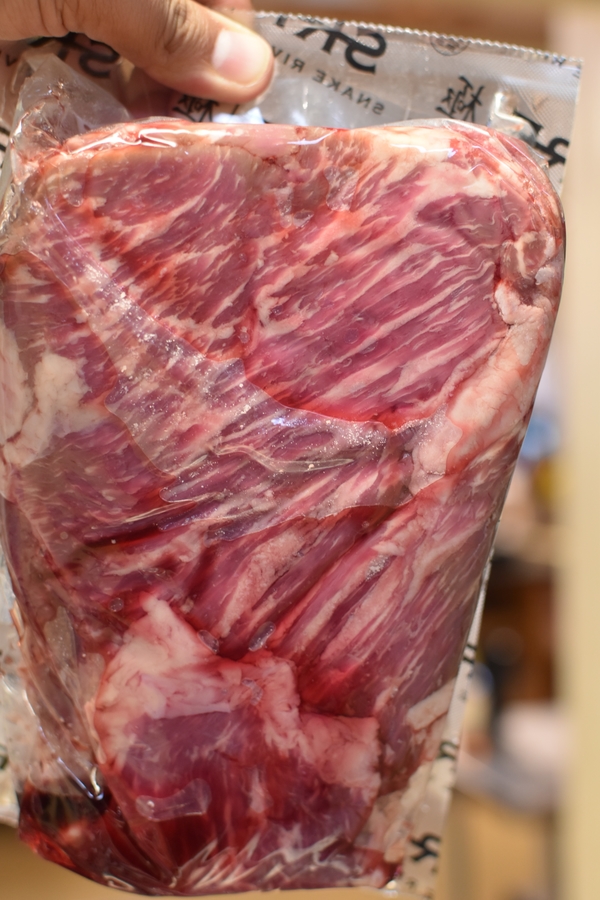 Due to the extra fat and marbling in the Wagyu beef from Snake River Farms the flavor profile and technique of this recipe make the delicious Thai Beef flavors pop on your tastebuds! For a restaurant quality experience, you can serve the tri-tip sliced over some cold sesame noodles, or in a rice bowl with spicy slaw or pickled mango.
Ingredients:
Yield: 6-8 servings
1 2-3 pound Tri-Tip
1 cup prepared Thai Green Curry Paste
1 ½ Cups Coconut Milk
½ Cup Soy Sauce
2 Tbsp Sesame Oil
2 Tbsp Fish Sauce
1 Tbsp Sriracha Sauce
1 Tbsp Chopped Cilantro
2 Tbsp Chopped Fresh Ginger
1 tsp Kosher Salt
Directions:
Start by patting the tri-tip dry with a paper towel. Next, take the curry paste and rub over the entire piece of meat until completely covered. Once rubbed, place in a gallon-size zipper storage bag.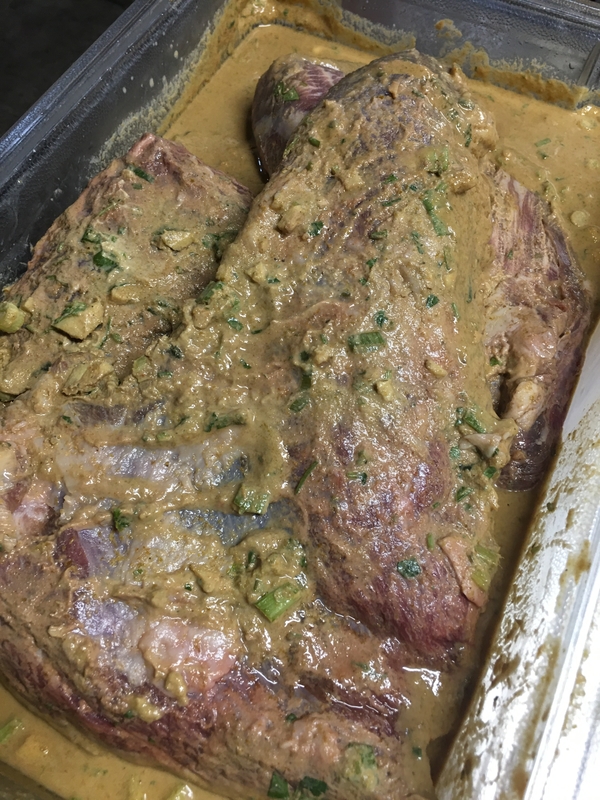 In a mixing bowl add all of the other ingredients together. Whisk the mixture well until blended into a marinade. Pour the marinade over the tri-tip, and place in your refrigerator overnight. Turn the meat and marinade over a few times while it is marinating.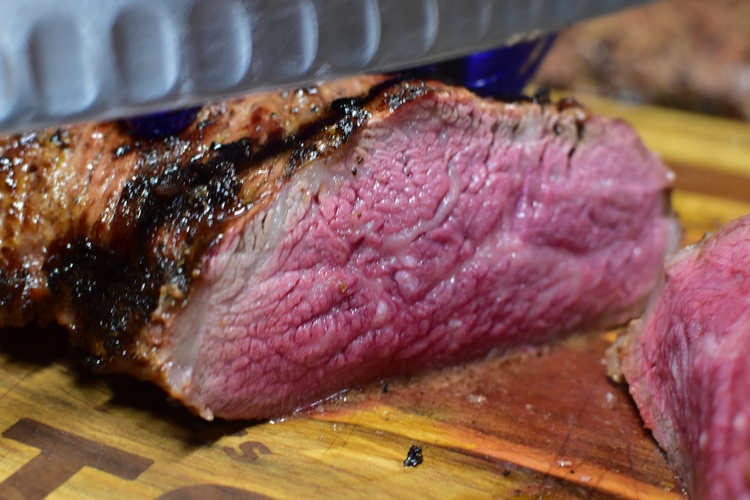 Light Big Green Egg and bring temperature up to 450℉. Sear tri-tip for 4-5 minutes per side, remove from grill and insert plate setter into Kamado grill for indirect cooking at 400℉. Place tri-tip back on Egg until internal temp reaches 123°-128° and steak is Medium Rare. This will take about 30 minutes, but check it around 20 minutes. Remove the tri-tip and allow it to rest uncovered for 15 minutes. Slice the tri-tip in ⅛-¼" slices against the grain. If you have some guests who like their beef more well done, use the ends of the tri-tip for their portions.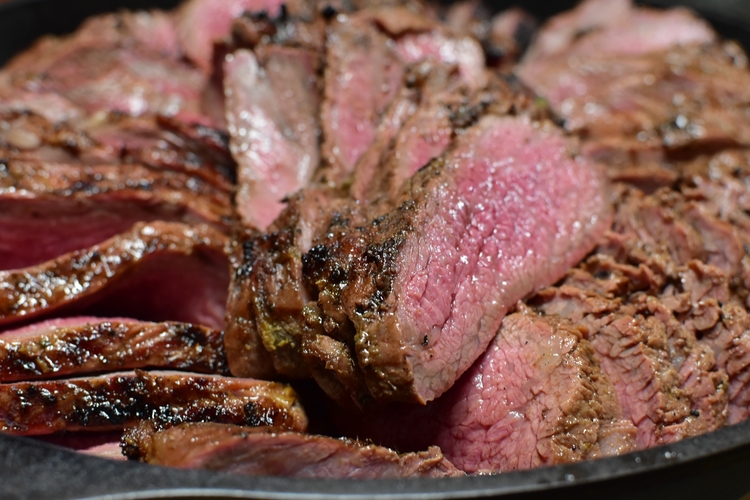 Ken's take on buying the right grill:
When someone asks me what grill he or she should buy, I always ask a few questions before giving my recommendation.
First one is, "What is your budget?"
Second one is, "What type of experience do you want to have?"
Third question is, "How much space do you have?"
Knowing your budget helps me recommend a grill that you could comfortably purchase. Nobody wants buyer's remorse, and what use is the grill if you've got nothing leftover to buy food to cook on it?
What type of experience do you want? This is the one question that allows me to see how much interaction you want with your grill. I love to build a fire and watch it burn! I also love the variety of flavor I can get depending on the charcoal or wood I am using. You may want a more straightforward experience, and that's perfectly okay. This question also lets me know if you are someone who wants to just grill some steaks and burgers, or do you want to do long cooks, like a brisket?
How much space do you have? This one usually guides me to my final recommendation. Most people have room for one grill. However, if you have space and budget for two, I might recommend a charcoal grill for high temperature grilling and a different one for low and slow cooking.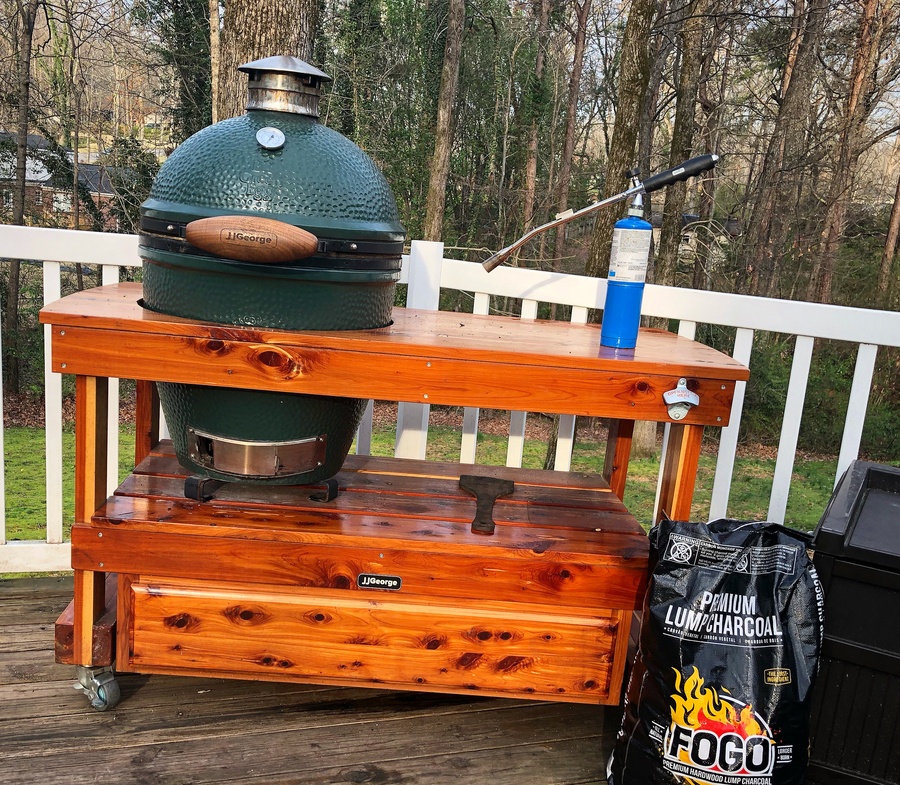 Often, my advice is to go with a large Big Green Egg. If you have the budget and space for one grill, this is always the best way to go, in my opinion. If you don't want to build fires and play with airflow, I'd lean away from the BGE, but if you enjoy cooking and "playing" with fire, the BGE is for you!
One of the greatest things about the Big Green Egg is its versatility. You can grill at high temperatures, barbecue low and slow, bake cakes and bread, and even make wood-fired pizzas. This makes the BGE such a great grill to own if you need to maximize efficiency of your space. The ability to go from direct to indirect grilling in the middle of a cook is fantastic!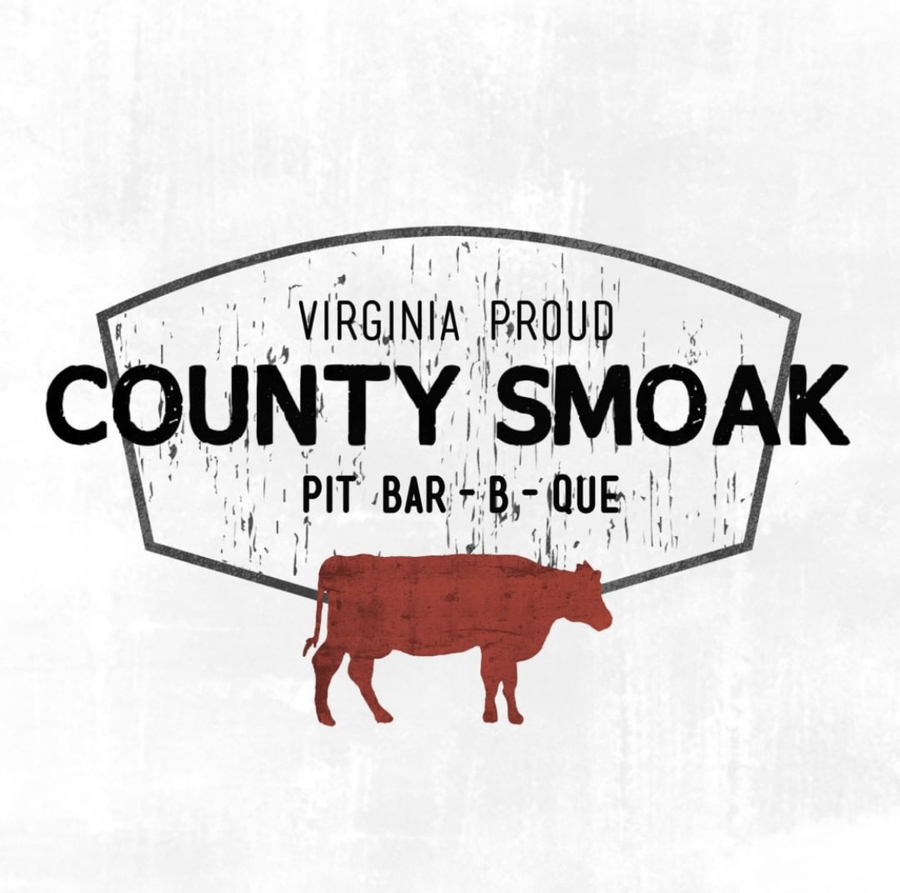 Visit Ken at CountySmoak.com
Be sure follow County Smoak on Facebook: facebook.com/countysmoak as well as on Instagram: Instagram.com/countysmoak
To get a taste of Ken's delicious homemade rubs and spices you are just a click away. You can order them by Clicking Here and have them shipped straight to your door.
Also, if you are in the Lynchburg, Virginia area and need a top notch caterer, you cannot go wrong with County Smoak.... Click Here for the Catering Menu
Finally, keep an eye on the County Smoak BBQ team to see if they are putting on a class or cooking at an event near you... Click Here for the schedule.
Thanks so much for reading! We hope that you took away as much as we did from this blog post featuring Ken and County Smoak BBQ. Let us know how we are doing or what you would like us to write about next, in the notes below.