Posted by JJ on 17th Feb 2022
Can you cook a thick cut steak on a Salamander Broiler?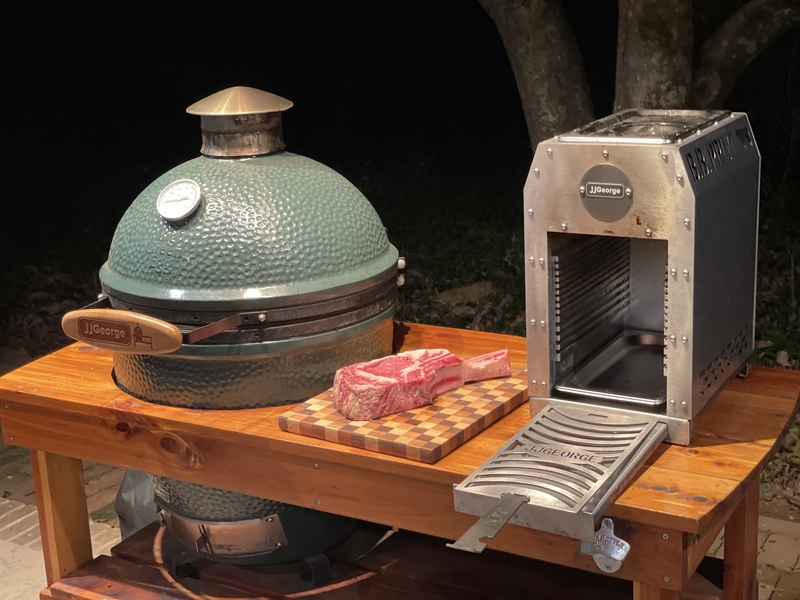 We get this question and the short answer is: Absolutely... and it is delicious!
In todays edition of Grillmaster Tips we are breaking out a 3 pound USDA Prime Tomahawk Ribeye to show you how easy it is to cook a massive steak on the B.B. Prime Salamander!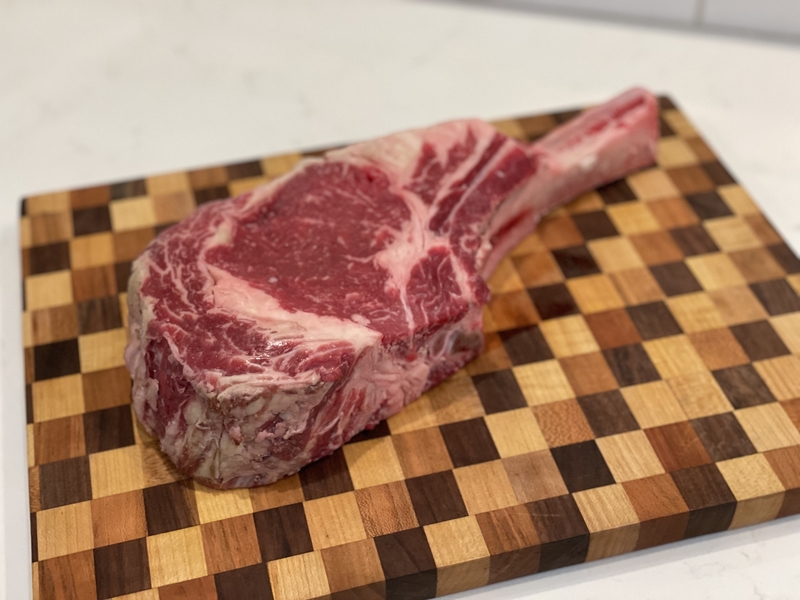 Step 1. Pick out a Great Steak
All steak is not created equal and although you might spend a little more, we believe that splurging on a Prime cut of Beef is well worth it. For this cook, we picked up our 3 pound Prime Tomahawk Ribeye at Costco. A few hours before cooking, set it out on your counter and bring it to room temperature.
Other items needed: Kosher Salt, Black Pepper, & Butter. We made a basting brush out of a few sprigs of Rosemary for fun.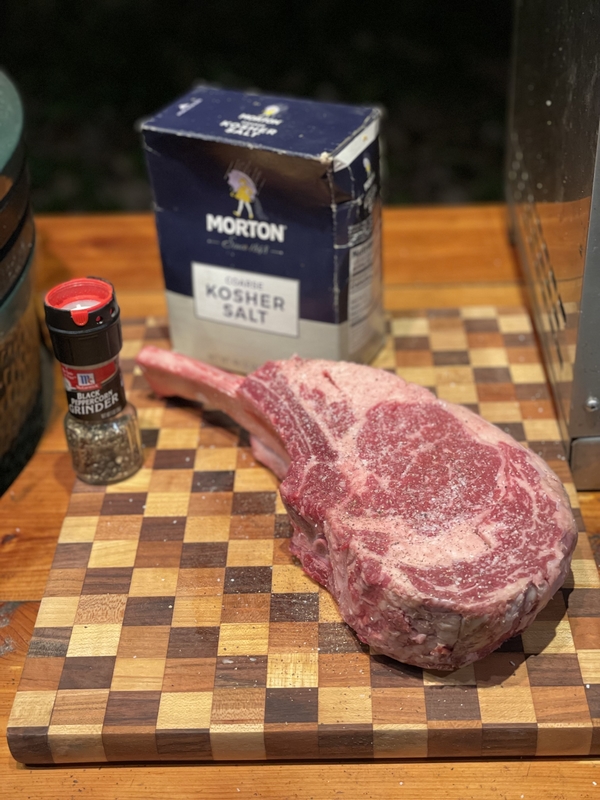 Step 2. Season and Sear
Fire up your B.B. Prime Salamander Broiler to high heat.
Pat your steak dry with a paper towel and season it all over with Kosher Salt and Black Pepper. Make sure to pat the seasoning into the meat so that it will absorb some of the moisture to prevent the seasoning from burning.
Place steak on B.B. Prime grill grate and slide into B.B. Prime. Sear for 90 seconds on each side and use the slot on your salamander that brings the steak within 1-2 inches of the infrared flame coming from the top.
* Go ahead and throw a couple of tablespoons of butter in your drip pan to be melting for use in step 3.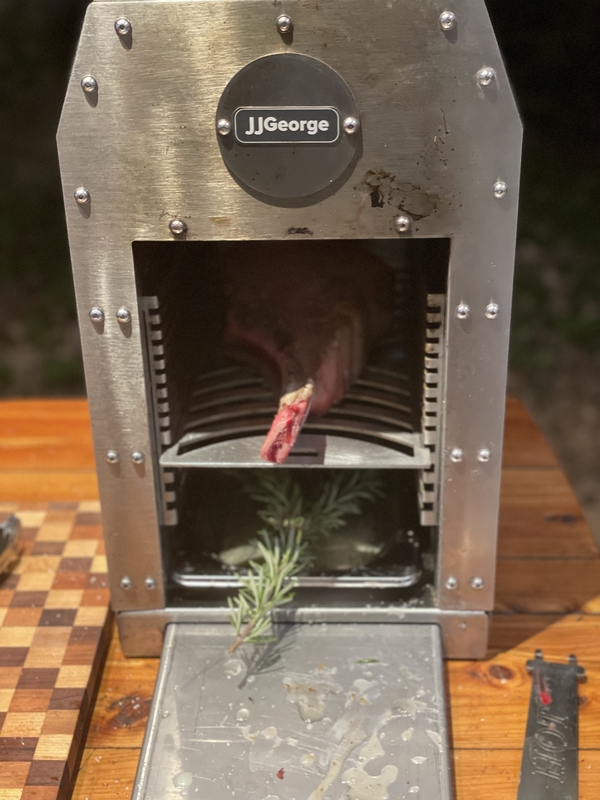 Step 3. Flip, Baste, & Repeat
This is the key to getting your steak perfect every single time!
After your steak is seared, move it down to the 4th or 5th slot from the bottom of your grill to cook. Flip every 3-4 minutes and baste with melted butter from the drip tray below. Continue flipping until it reaches your desired internal temperature. We use a Thermapen Instant Read Thermometer to get our steaks to a perfect medium rare 130°F in the center.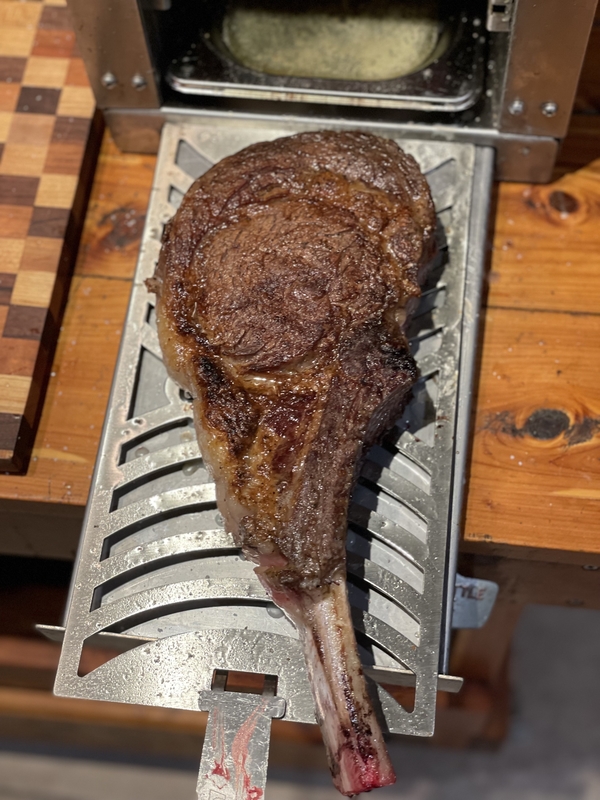 Get Your B.B. Prime Salamander Here
* Once you hit your magic number for internal temp, remove the steak from your grill and let rest for 10 minutes before serving.
**Temp Guide: Rare 120°F, Medium Rare 130°F, Medium 140°F, Medium Well 150°F, Well Done 160°F
Here is a real quick video of the entire cook:
As always, thank you so much for visiting us today! We hope that you enjoy Grillmaster Tips and if there is anything that you would like to see us write about, send us an email sales@jjgeorgestore.com and let us know?
At JJGeorge our mission is to make outdoor living better by providing phenomenal products and treating our customers, coworkers, and partners like we want to be treated!
Happy Grilling till next time!
- The JJGeorge Team