Posted by JJ on 10th Mar 2021
At JJGeorge we frequently get the question: "What lumber should I use to build a table for my Big Green Egg"?
In this edition of Grillmaster Tips we give the pros and cons for 4 of the most popular lumbers used for making Grill Tables for Kamado Grills.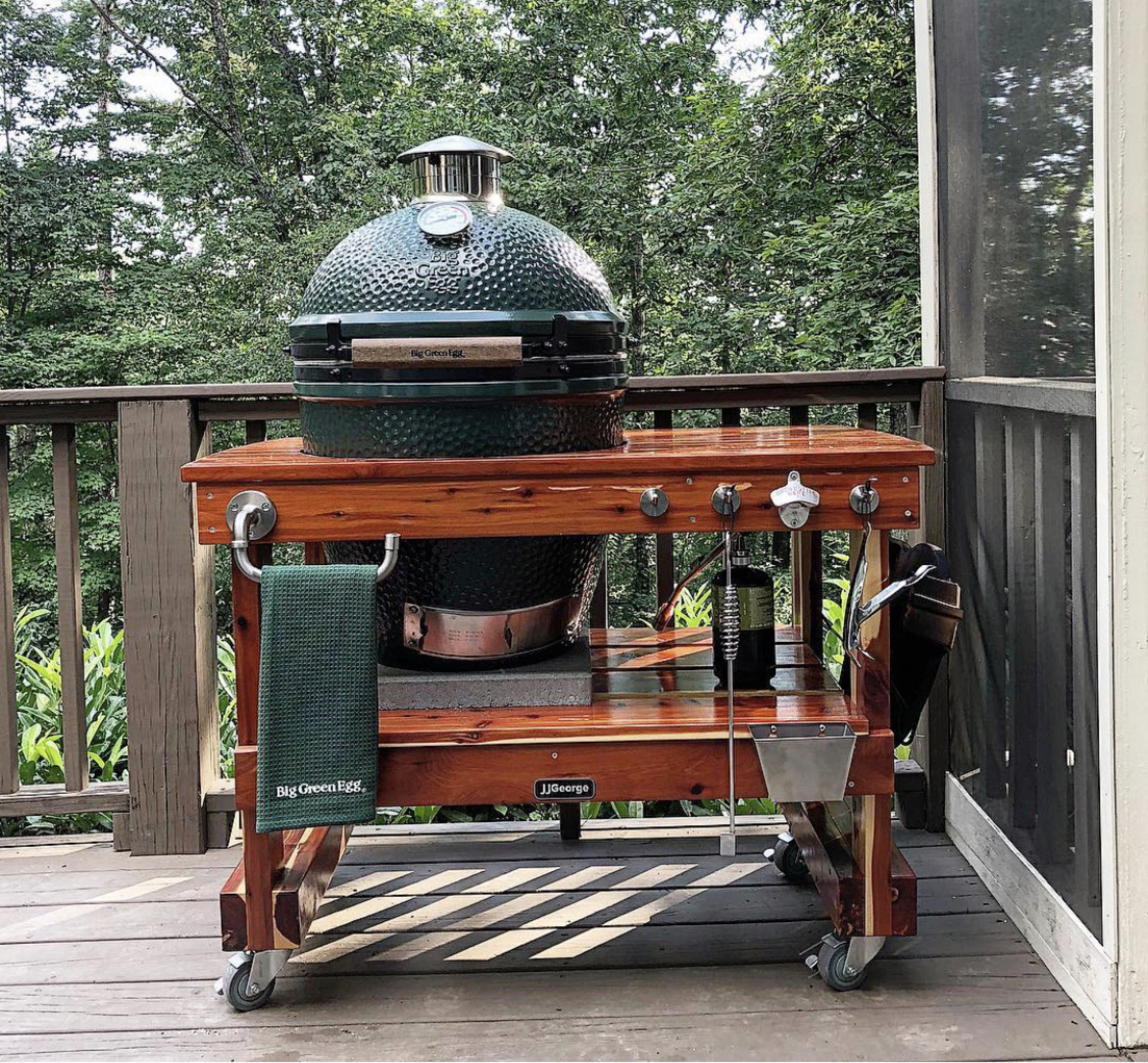 Eastern Red Cedar is by far out favorite material for building Big Green Egg tables. Native to the Southeastern United States and a little more on the expensive side, if you can find it at all... Other than price, it checks all of the key boxes when it comes to building a table for a Kamado grill. It will not rot, bugs hate it, and is the only way to go for a table that will last 10 or more years. For these reasons, we use Eastern Red Cedar almost exclusively on our own tables.
Weatherability - 9/10
Durability 10/10
Lifespan 10/10
Price 4/10
Overall Score 8.25/10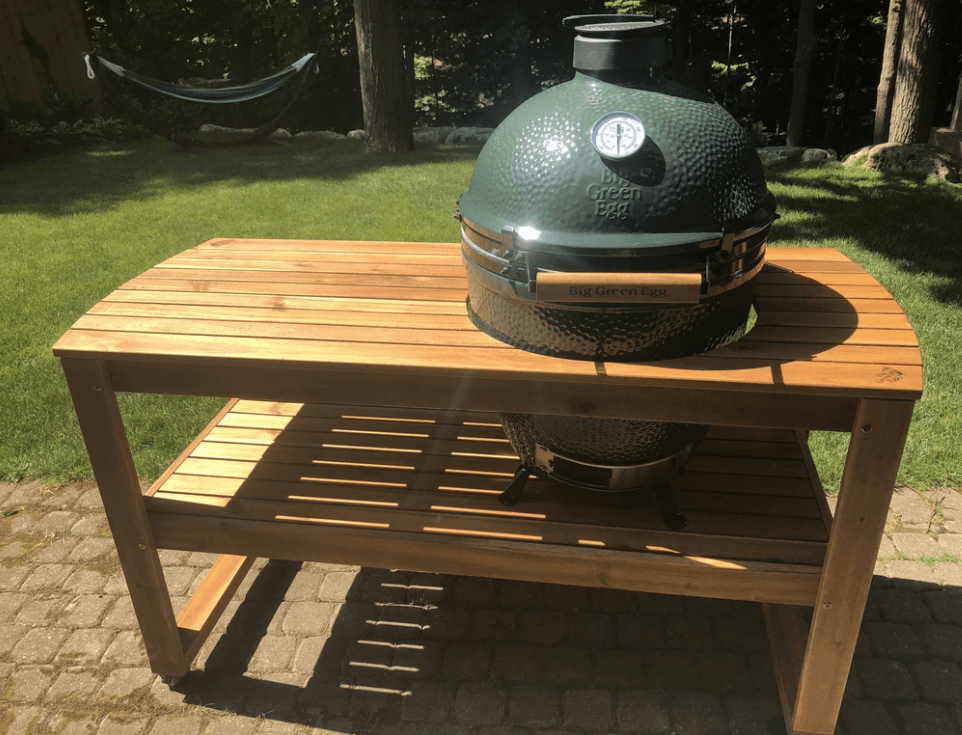 2. Acacia
Coming in at number two on our list is Acacia. Acacia is easy to work with and is imported from Asia, Australia, and Europe. It weathers well and is great for outdoor furniture. The biggest drawback for using Acacia on a Kamado tables is that it does not pair that well with heat and when used in drier climates, tends to become brittle and fractures are common.
Weatherability 8/10
Durability 6/10
Lifespan 6/10
Price 5/10
Overall Score 6.25/10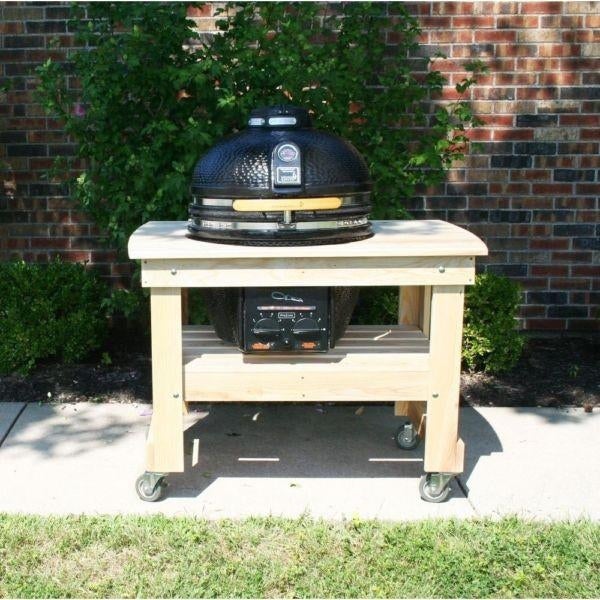 3. Cypress
Cypress has been a fan favorite for Kamado tables for years. It weathers well, but has been used more infrequently over the past few years over durability concerns. Out of the gate Cypress is great. However, being on the softer side of lumber, cypress has a tendency for the screws and bolts to sink into the wood over time when paired with a 100 pound or more ceramic grill. When the screws start to sink in, the table starts to wobble and fall apart within 3-5 years.
Weatherability 9/10
Durability 4/10
Lifespan 5/10
Price 6/10
Overall Score 6/10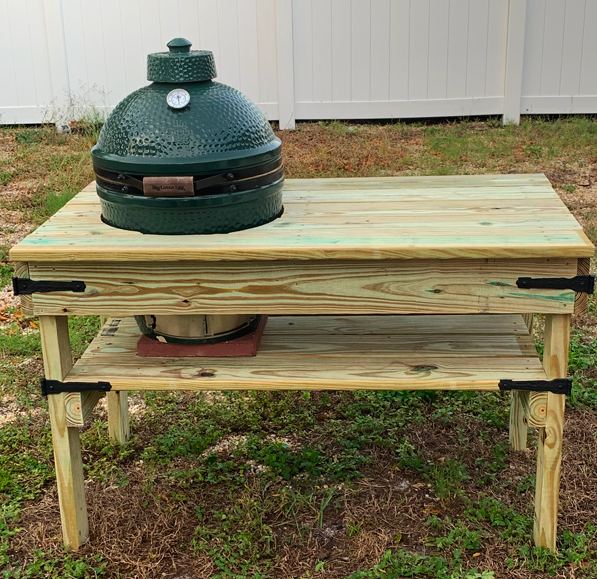 4. Treated Pine

If you are looking for the cheapest route to a Big Green Egg table then treated pine is the way to go. However, being the COVID era, treated pine and all commercial building materials have skyrocketed in price. Pine is great if you are looking for a cheap, functional table, but lacks luster when it comes to looks and durability.
Weatherability 4/10
Durability 7/10
Lifespan 3/10
Price 7/10
Overall Score 5.25/10
As always, thanks so much for stopping by and reading our blog. We love all things BBQ and It is our mission to make outdoor living better for all of our friends and customers!
Happy Grilling!
-The JJGeorge Team