JJGeorge recently hit the road South to check out and compete in Florida's famed Pensacola Eggfest presented by Kia Autosport. After hearing the social media buzz around this festival, and the fact that it goes to benefit great charities such as: Manna Food Pantry, Operation BBQ Relief, Hungry for a Day and The Rally Foundation who raise awareness and funds for childhood cancer research, we figured that participating in this event was a win/win!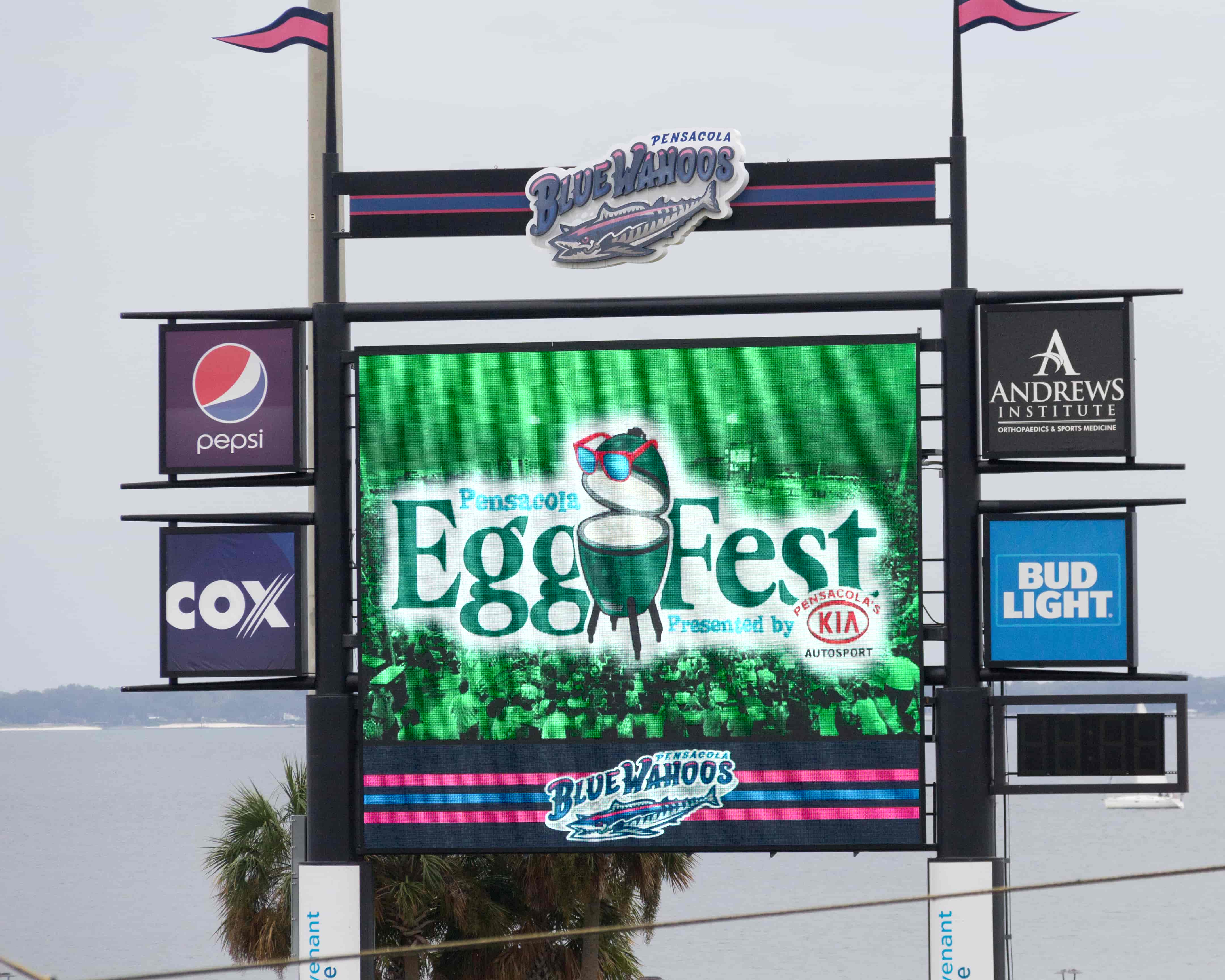 Blue Wahoos Stadium
(Photo - Barrett McLean Photography)
Over the years we have cooked in a few BBQ competitions for fun and most of them have set categories such as: ribs, brisket, butt, chicken, etc... The thing that we loved about Pensacola's event, was that your team has the freedom to get creative and cook anything that you choose. The only rules are to come up with 300-400 bites that are cooked on a Big Green Egg. For us, coming up with what to cook was an easy decision. One of our favorite things to do is to sit on the back porch with the Big Green Egg, a bushel of fresh Bon Secour Oysters, and some tunes playing. We shuck the oysters fresh and chargrill them Drago's style a dozen at a time (recipe below). So, all we had to do is multiply this by 40 with Drivin' N Cryin' on stage, and we had a plan!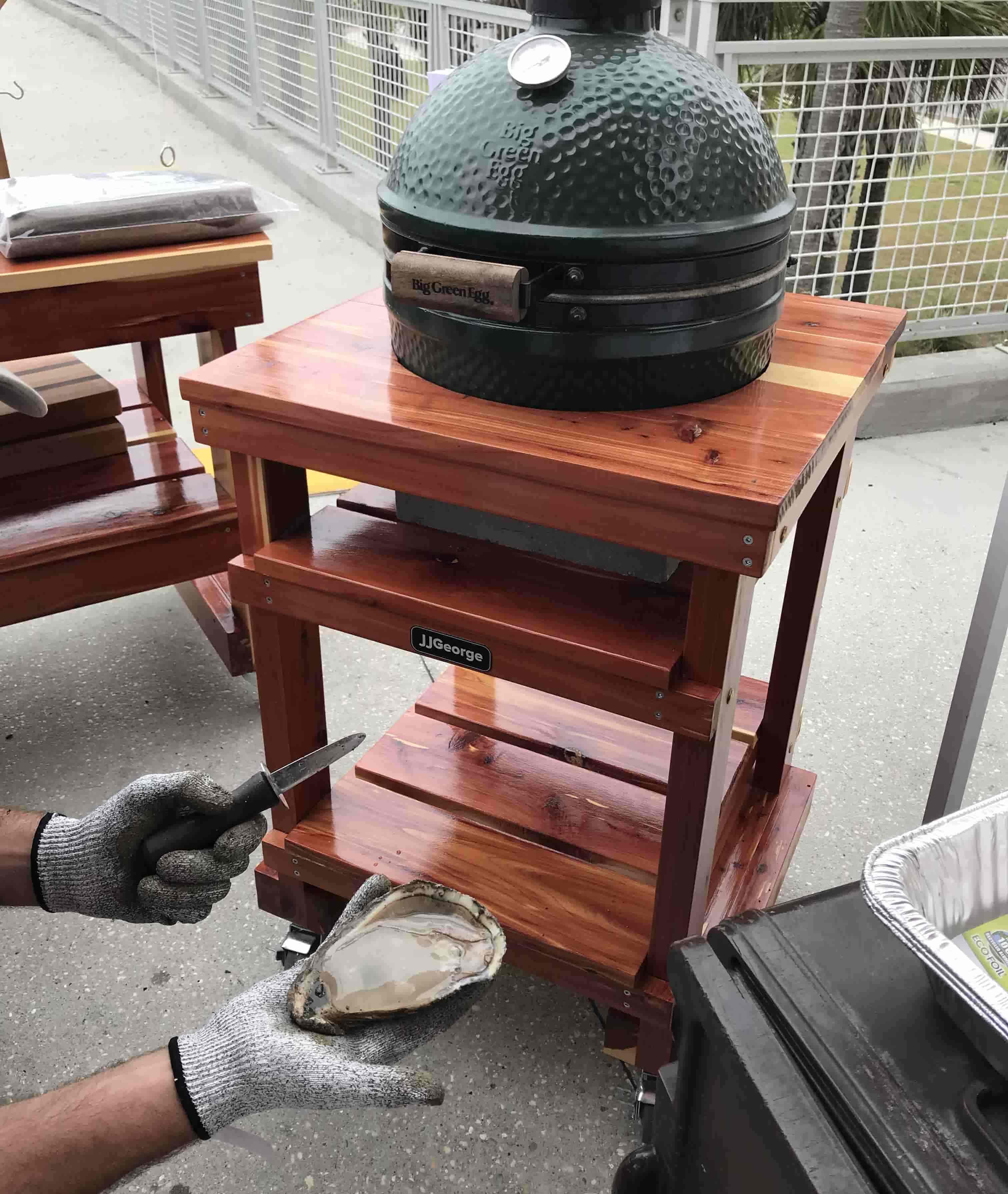 Massive Bon Secour Oyster
The gates at Pensacola Blue Wahoo's waterfront stadium open at 6:30 am the day of the event for teams to start cooking. We showed shortly thereafter with our Big Green Egg setup and let the shucking begin. The 51 teams each received a brand new Big Green Egg to cook on. These Eggs are pre-sold before the event, so each team is responsible for breaking in some lucky person's new Big Green Egg. For extra firepower, we brought our own Large and MiniMax Eggs in their JJGeorge tables for extra workspace and storage. We also had the brand new JJGeorge Grill Torch on hand for speedy lighting. The organizers and volunteers at the event were incredibly friendly, making sure that all of our needs were met and providing charcoal for all of our grills.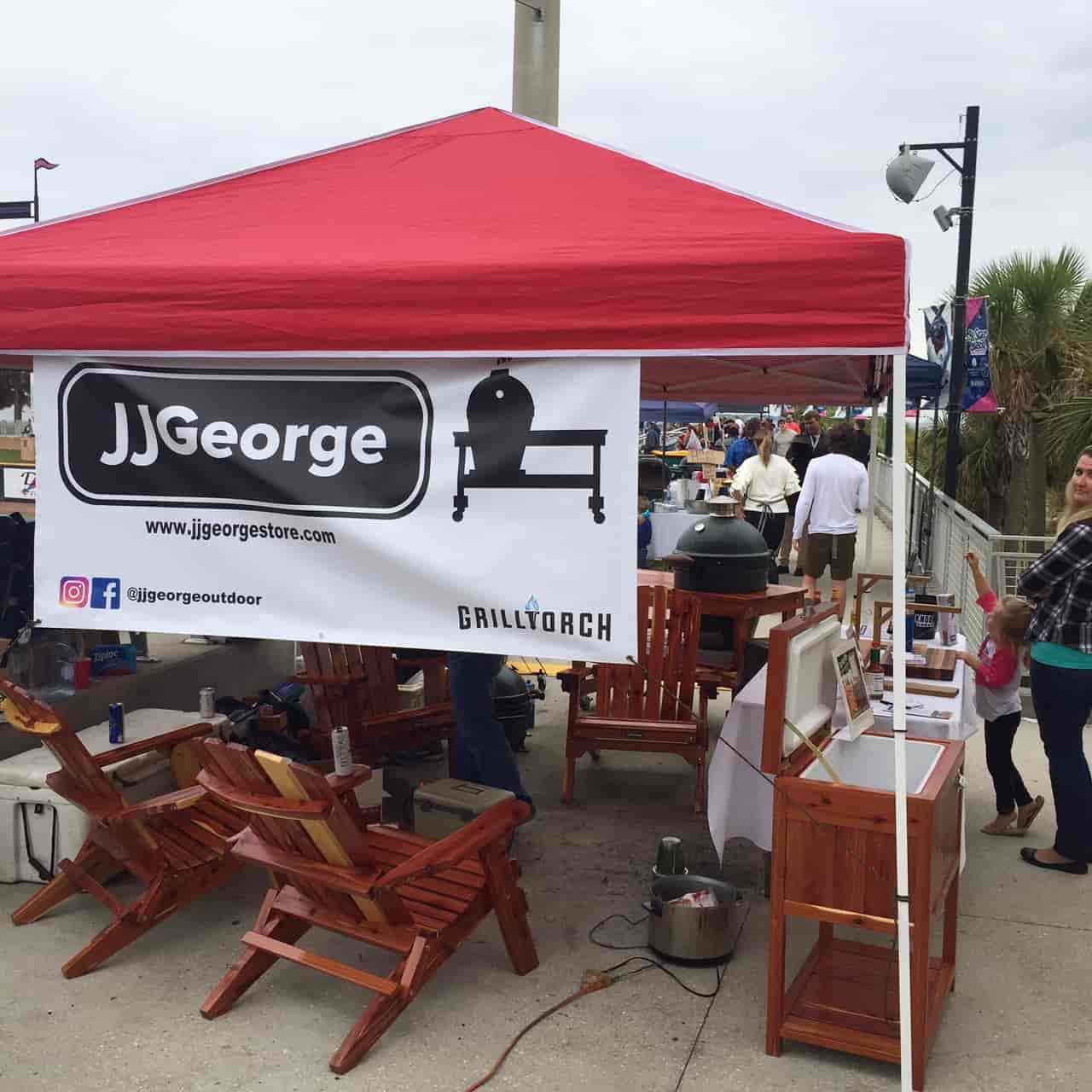 JJGeorge HQ
The laid back atmosphere at Pensacola Eggfest allowed the celebrity judges to mingle among the crowd of over 2200 strong and visit with the teams competing in the event. These judges include: Big Moe Cason, Sean Dietrich "Sean of the South" and Alan and Lisa Robertson from Duck Dynasty—along with a host of local & celebrity judges including both local Police Chiefs, Fire Chief, CO of NAS Pensacola and the Command Master Chief of NAS Pensacola (highest ranking enlisted personnel). These judges had the tall task of narrowing down the 51 delicious dishes into the top 3... Rough job! Also, with the World Championship of Food coinciding right down the road in Orange Beach, Alabama, many incredible chefs and Instagram favorites such as: Big Green Craig, Tim Shelburn, Grilling Gary and others were rumored to be in the area which added to the cuisine themed weekend.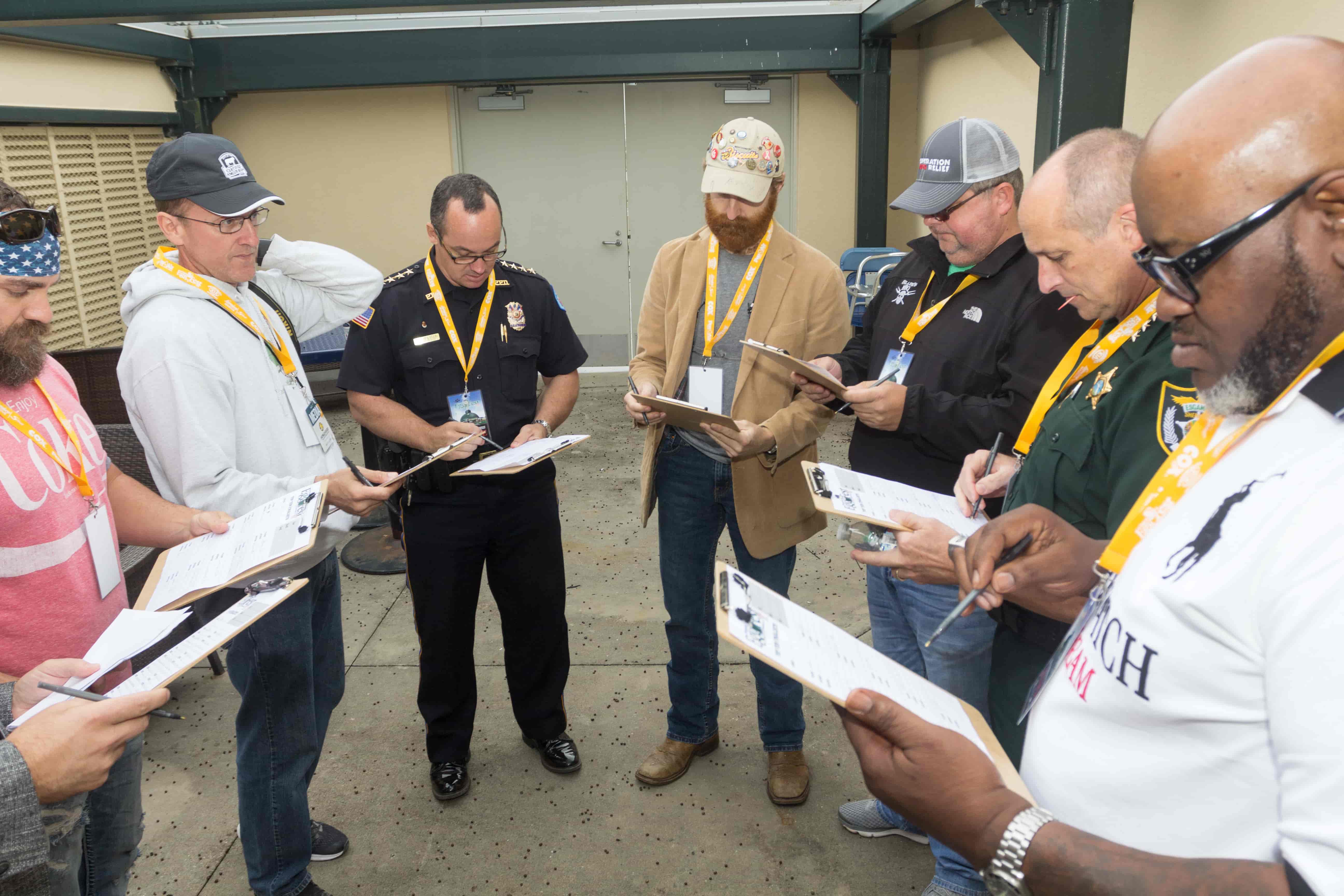 Celebrity Judges Working Hard
(Photo - Barrett McLean Photography)
Pensacola Eggfest definitely stood up to all the hype that it was receiving. Sitting on the Gulf of Mexico in the Florida panhandle.... Pensacola's fall weather, restaurants, Blue Angels air show, and "good vibe" atmosphere will make this event a stop on the JJGeorge roadshow for years to come. Although team JJGeorge put up a valiant effort, shucking and chargrilling well over 400 oysters in just a few hours, we were no match for some of the delicious and creative dishes that were served at the event. Congrats to these teams for bringing their Big Green Egg "A-game" to the Sunshine State:
1st place: Some Incredible Smoked Mullet Dip from our neighbors at the event - Buck Yeah BBQ, Kyle Buck - This was his first year cooking.... Congrats! We are proud of you guys!
2nd place: The Fishin' Chix, who introduced our crowd to how delicious a bacon wrapped date could be.
3rd place: Brothers in BBQ, Pensacola Professional Firefighters-low and slow is better for bbq.
1st Place Peoples Choice: T-Grill with E's, beef tenderloin with a bourbon and cherry tomato reduction, served on a crispy parmesan wafer.
Champs! Buck Yeah BBQ/Brothers in BBQ
(Photo - Barrett McLean Photography)
It may not be as tasty as Buck Yeah BBQ's Smoked Mullet Dip, but in case you made it out and tried one of our chargrilled oysters and would like to give it a go, here is the recipe:
Drago's Style Charbroiled Oysters Recipe
The Sauce:
1 Stick of Unsalted Butter
1 Pinch of Kosher Salt
1 tsp of Black Pepper
1 Tbsp of Minced Garlic
4 Tbsp of grated Parmesan or Romano Cheese
1 pinch of Cayenne Pepper
1 pinch of White Pepper
1 tsp of Lemon Juice
1 tsp of Minced Parsley
Stir all of the ingredients together.
For the Oysters:
1 Dozen freshly shucked Oysters on the half shell
1 Recipe of the Sauce, above
Parmesan or Romano to finish
Minced Parsley for garnish
Fresh Bread
Lemon wedges
Heat your Big Green Egg to 400 degrees. Place the oysters on the Egg and cook them in their own juices for a few minutes, until they begin to bubble.
Dollop a generous portion of the sauce on the oysters, enough to fill up the shell. When the sauce starts to bubble, sprinkle each oyster with shredded Parmesan or Romano cheese. Cook the oysters until the sauce on the edges of the shells gets nice and brown. Then lightly garnish with the minced Parsley.
Serve hot with french bread, your favorite hot sauce, and a slice of lemon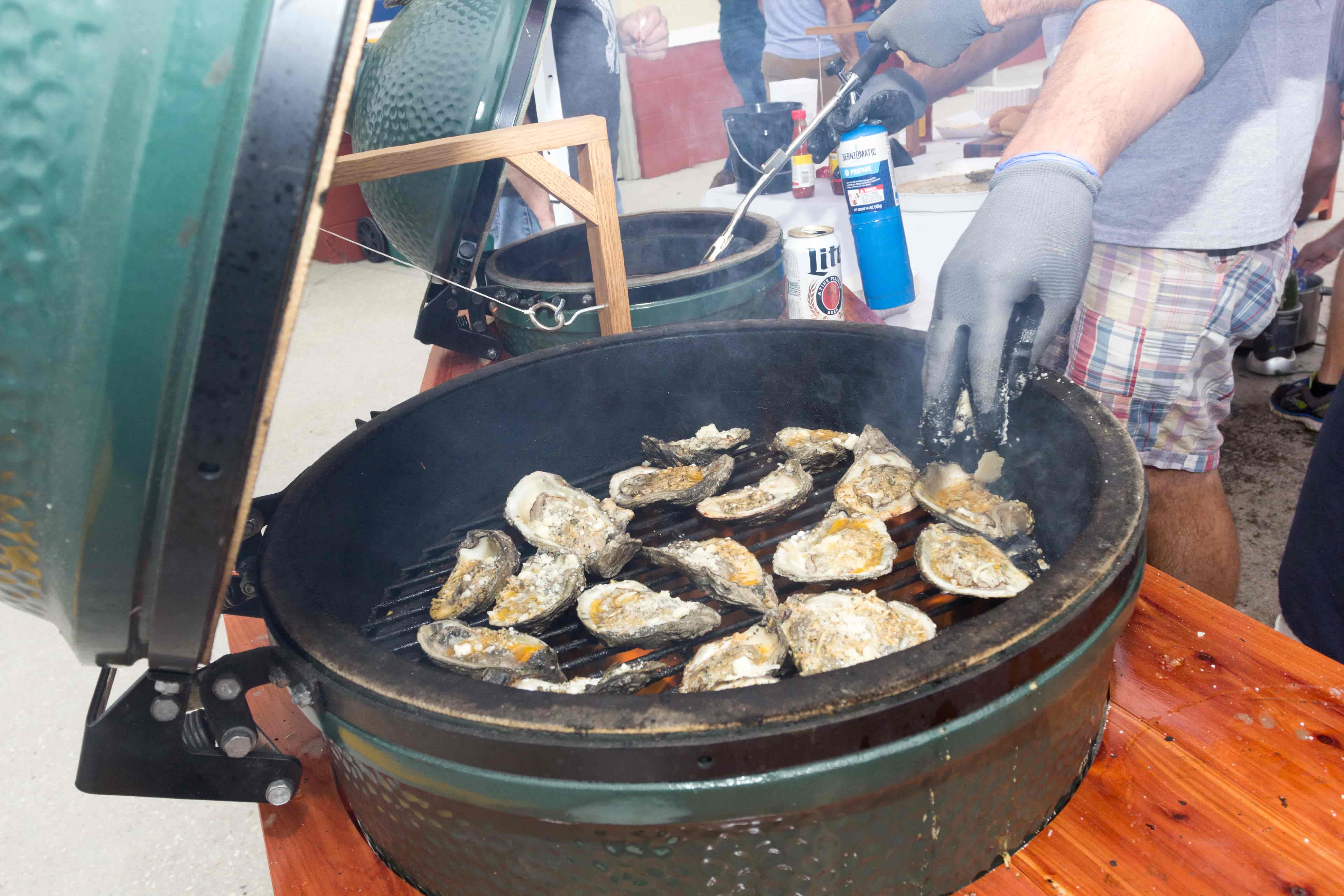 Oysters Drago's Style
(Photo - Barrett McLean Photography)