Posted by JJ on 23rd Jan 2020
The term "Ribeye in the Sky" is thrown around loosely in regard to the Sandhill Crane. Supposedly this giant bird has the best tasting meat of all wild game and fortunately for us, we have secured a couple of breasts to try for ourselves. In this edition of Grillmaster Tips we teamed up with our good friend Kirk also known as Instagram's @the_grill_revealer to find out once and for all if the Sandhill Crane can live up to its "Ribeye in the Sky" status.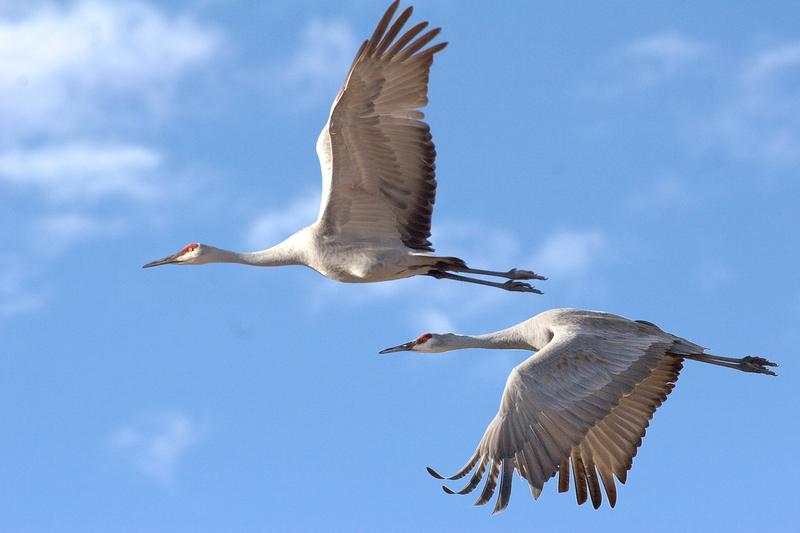 Setting up your Big Green Egg or Kamado grill
Fire up your charcoal quickly with a JJGeorge Grill Torch and level it off at around 300 degrees. Throw a couple of soaked hickory chunks into the charcoal to give the meat a light smokey flavor.
We are going to cook the breasts indirectly on cedar planks, so install your plate setter or other method of indirect heat if your are not using a Kamado grill. Also, now is a good time to soak your cedar planks in water if you haven't done so already.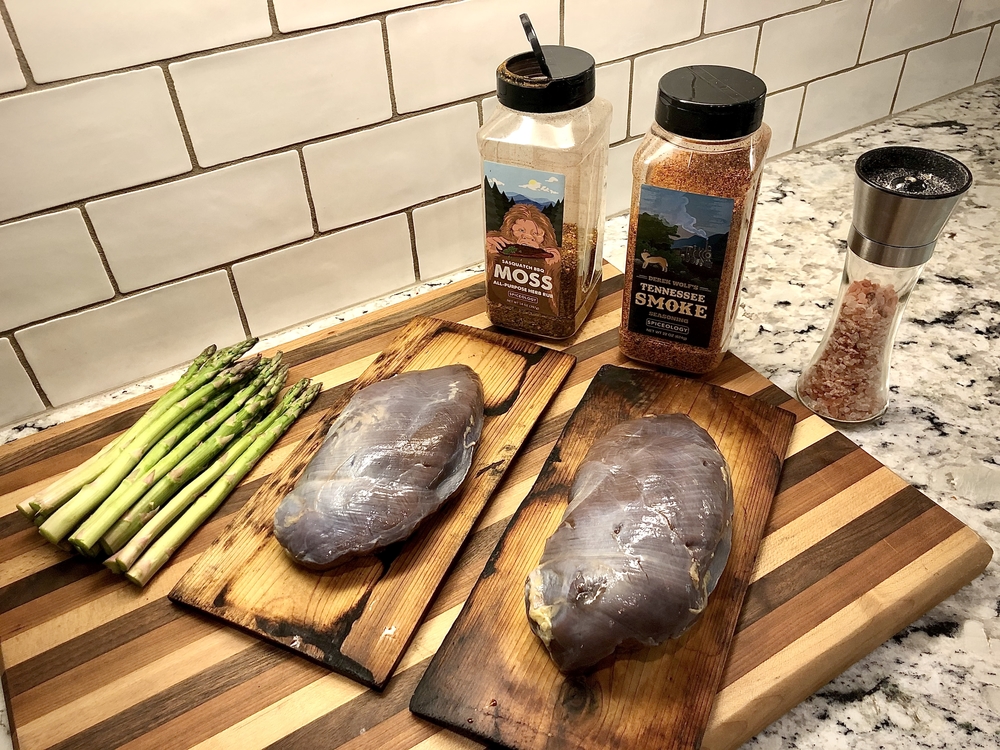 Prep
Make sure to soak the breasts for 24-48 hours in a half vinegar and half water mixture to draw the blood out of the meat. Once this is done, rinse it off and dry with a paper towel. We have two one pound Crane breasts and we will be using the same cooking method for both. However, we are going to season and present them differently to see what pairs best with the Sandhill Crane meat.
Chimichurri Sandhill Crane Breast:
For our first breast we are going to cover it in extra virgin olive oil and generously dry rub it all over with Spiceology's Moss rub created by Sasquatch BBQ. This all purpose herb rub has a delicious chimichurri flavor. While the crane is cooking we are making a homemade chimichurri sauce as a topper for the meat (sauce recipe below).
Chimichurri Sauce Recipe:
1/2 cup - finely chopped fresh Italian parsley
1/2 cup - olive oil
2 tablespoons of white wine vinegar
salt and pepper to taste
* Combine all ingredients, stir well and set to side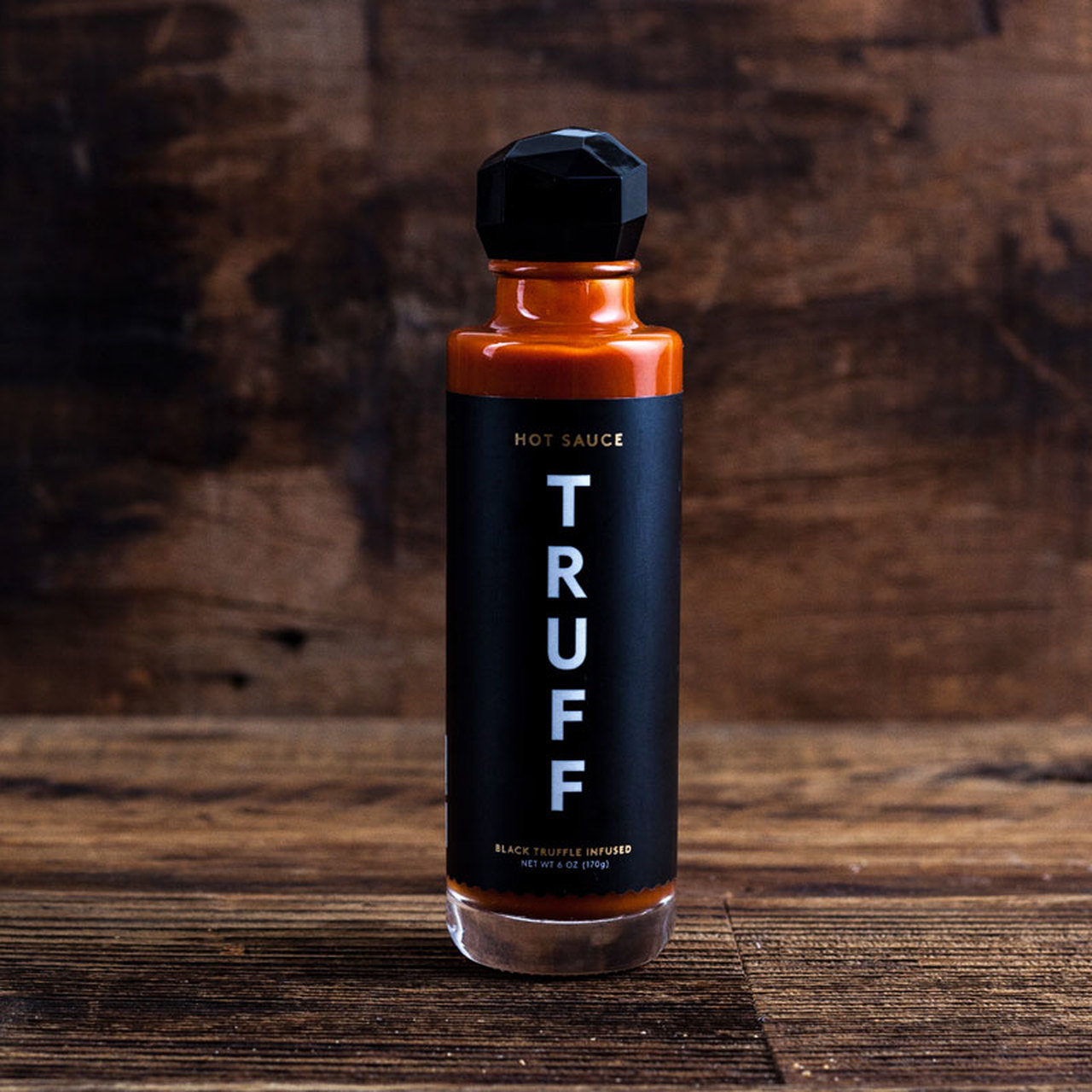 Tennessee Smoke Sandhill Crane Breast with Truff Sauce:
For our second breast we are going to coat in olive oil and dry rub generously with Spiceology's Tennessee Smoke inspired by Over the Fire Cooking's Derek Wolf. No further prep is required as we will be topping this crane breast with Truff - Truffle infused hot sauce to give it a spicy and smoky flavor.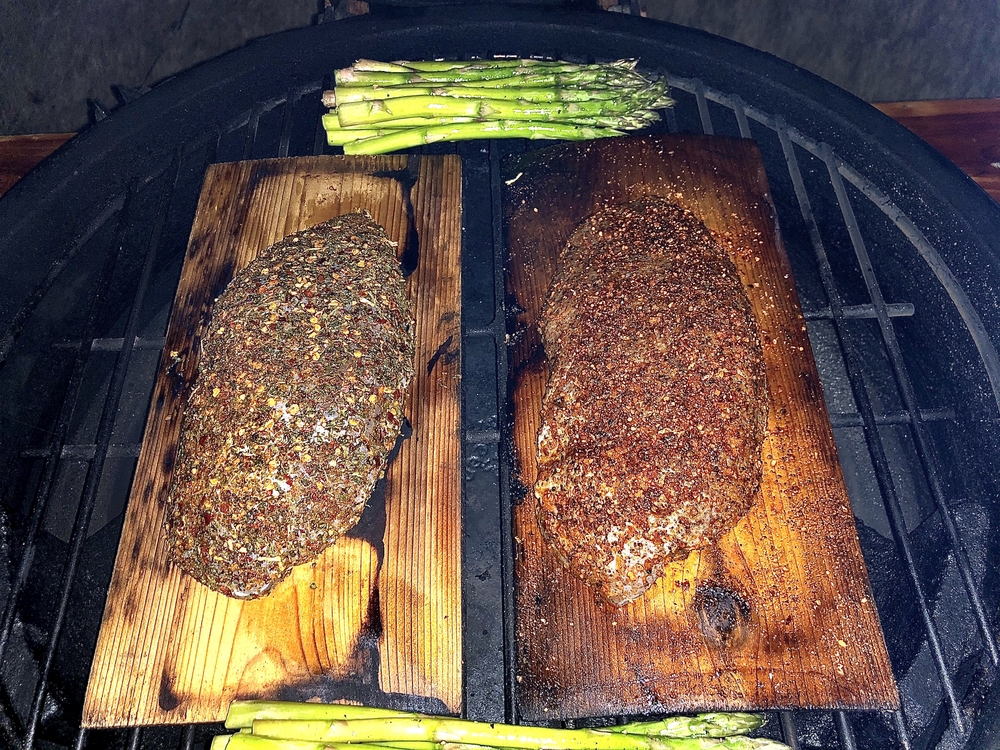 Cooking the Meat
Now that your Big Green Egg is at a stable temperature close to 300 degrees it is time to cook the meat. Place the seasoned crane breasts on your soaked cedar planks and place them on the grill. Cook indirectly for 30-45 minutes until the internal temperature of the breast reaches 120-125 degrees. Remove crane from grill and let the meat rest for 10 to 15 minutes to let the juices redistribute throughout the meat making it moist, tender, and delicious!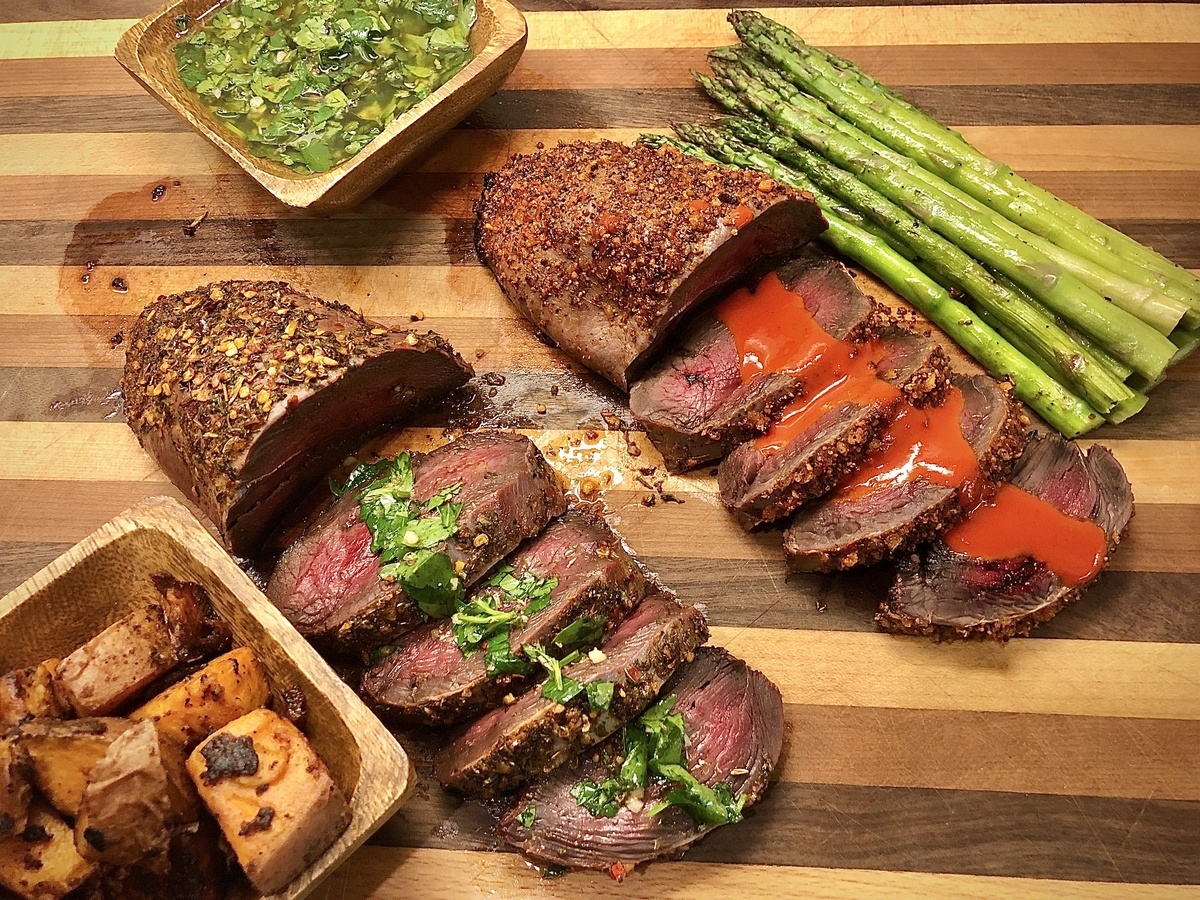 Slice and Serve
Now that your Sandhill Crane is perfectly cooked, it is time to slice it up, apply our sauce, and see how it tastes. We sliced our crane breast against grain and applied the chimichurri sauce to the breast with the herb based rub. We did the same for the Tennessee Smoke rubbed breast and topped it off with a drizzle of Truff sauce.
The Verdict
So on to the most important question... does Sandhill Crane live up to its nickname "The Ribeye in the Sky"? I must admit that we were very skeptical going into this thinking that the crane meat would taste like a large duck or goose breast... but boy were we wrong! It is tender, juicy and absolutely delicious! It is definitely more lean than a ribeye steak and the texture resembles that of a well cooked filet mignon. Although both versions of our dish were great, the consensus voted in favor of the Chimichurri breast as the Chimi sauce paired better with the flavor of the meat that the Truff did. We give Sandhill Crane a 10 out of 10 as far as wild game goes, as this is as good as it gets when cooking waterfowl.
Thanks so much for reading and as always leave us a note below to let us know how we are doing, or what you would like us to do next. Happy Grilling!
- Team JJGeorge